Color flowers unique to you – learn to dye flowers like a pro!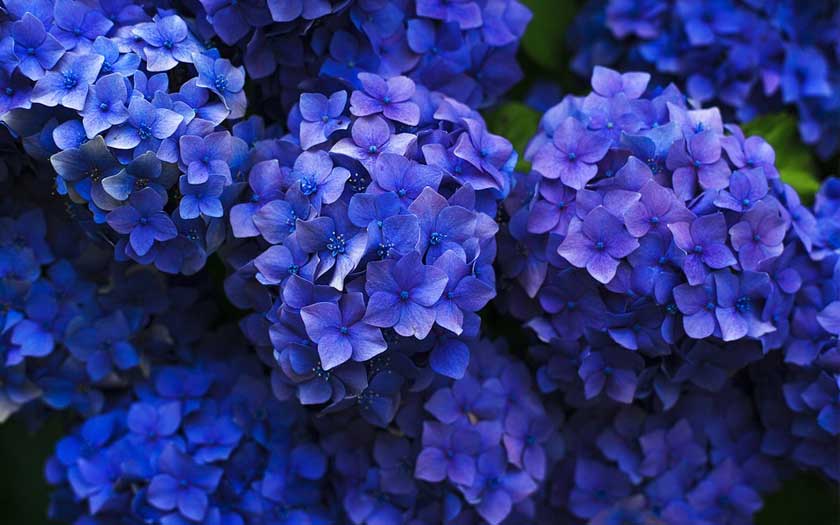 How To Dye Flowers Like A Pro
Have you ever looked at blue flowers and thought, "If only they were dark blue…"? Well, now it can be! Though it may seem like an oxymoron, dyeing flowers is surprisingly easy and can add a unique touch to any floral bouquet.
Don't be fooled by the idea that tinting flowers is difficult; with just a few simple steps, you can change the color of plain flowers to a more vibrant color of your choice The trick is knowing which method to use for your floral design project.
So why settle for the original flower color when you can change or enhance it to better fit the look you want? Read on to learn how to dye flowers the way the pros do! Let's get started.
Absorption Method
You probably learned about the absorption dye process in science class when you mixed a few drops of food coloring into a glass of water, added flowers, and watched as the flower heads changed color.
Using absorption dye, you can turn a larger number of flowers into the colors you need for your floral design project in a few hours. Absorption dye works best on white or light-colored flowers that have not been previously hydrated.
If your flowers have already been hydrated, you can still dye them, but the dye takes longer to be absorbed. In my experience, the results are not always the best.
If that's the case, I prefer to use the dip and rinse method outlined below.
Design Master has a line of systemic floral dyes called "Absorbit." These powered dyes, specifically formulated for fresh flower use, come in popular colors, including holiday red and green, pink and hot pink, dark, medium, and light blue, teal, purple, lavender, lime, yellow, and orange.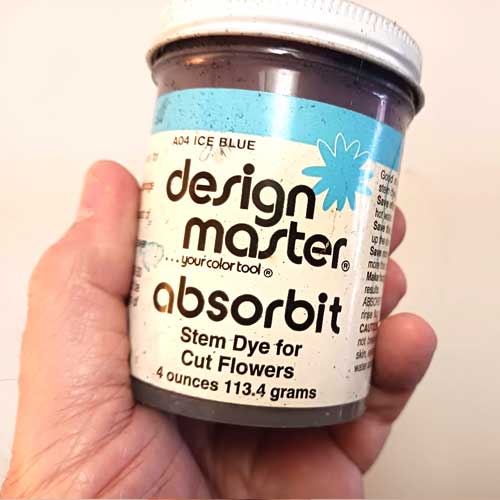 It's important to use professional-grade powdered floral dyes as directed because they are formulated to work best with the proper ratio of dye and water.
We've used this method of tinting fresh flowers for years with a lot of success, but today, it's not cost-effective unless you tint hundreds or thousands of flowers.
Regarding time, expense, and color quality, I prefer to let growers handle the dyeing process whenever possible. I think it's a service worth paying a little more for.
The photo below showcases some of the flower dyeings that can be done at the grower level.
For example, the rainbow rose is a multi-colored flower with its petals artificially colored using the absorption method. The stems are split lengthwise, and each part is placed into a different dye color. The colors are drawn into the petals resulting in a rose with multicolored petals.
While you can do this yourself, I think growers do a better job with more consistent results.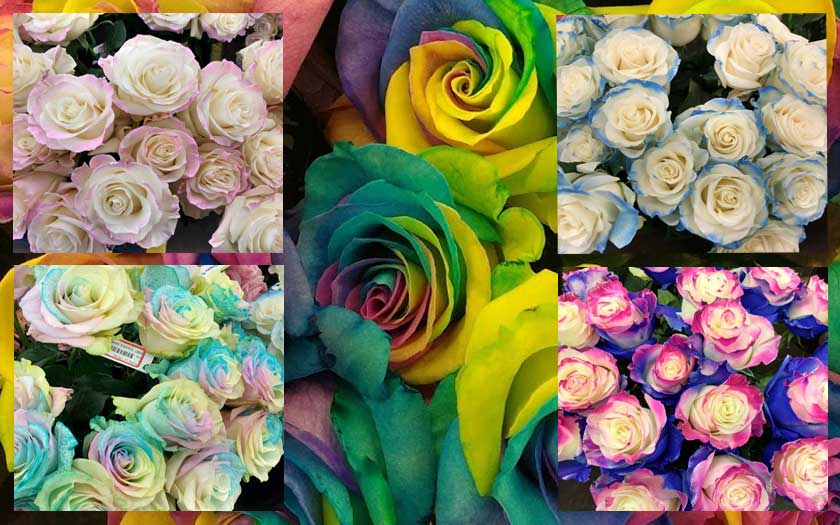 Dip And Rinse Method
We often use the dip method in the shop because it's quick; a few seconds per flower is all you need.  Dip-dyeing is the best method when you need even color across your flowers if the blooms are fully open or nearly so.
Design Master has a line of liquid dip dyes called "Dipit," which are premixed and can be used straight out of the bottle.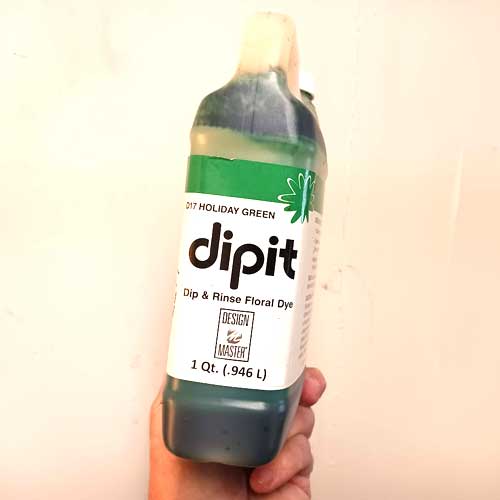 Start by filling one bucket with the dye and another with clean water. Swish the flower heads around in the dye, lightly shake off the excess dye and quickly dip them into clean water to rinse them.
Repeat rinsing if the flower color is too dark until you get the desired color. Rinsing produces a lighter-colored bloom.
Gently shake off the water, place the stems into a clean bucket of fresh water mixed with fresh flower food, and allow the flowers to dry. Once dry, they'll be ready to use in your floral design. it's a great way to dye small numbers of popular flowers like carnations, roses, hydrangeas, and baby's breath.
We reuse the dye by funneling it back into the bottle from the bucket and storing it until we need to use it again. So a quart of Dipit can last us several years.
Spray Tinting Method
Spray tinting, aka "color shifting," is a process for enhancing, brightening, or accenting the original color of a flower using a translucent dye that is sprayed on the flower.
"Just for Flowers" from Design Master is the professional's choice. These translucent, water-based color sprays have been designed exactly for this purpose.
Many flowers sold today can be custom-tinted and dyed at the grower level before shipping, significantly reducing the amount of flower tinting we have to do. If the color of the dyed flowers isn't quite what we expected or need, it's easy to use the spray tints to get the color shift we need.
These spray-on floral dyes have become our primary color tool for fresh-cut flowers.
The spray dyes are also anti-transpirants, helping to seal the moisture in the flower head, which is another plus.
This video clip provides a good overview of the color-shifting process.
Where To Find Design Master Floral Dyes
Design Master commercial flower dyes are available through wholesale floral distributors, who get priority from the manufacturer.
You can, however, find some of the "Just for Flowers" spray dye products on Amazon, as well as many colors of Absorbit and Dipit floral dyes.
Many DM Color Tools are also on Amazon, but those are regular spray paints, not floral dyes, so each is used for a different purpose.
Additional Tips
While knowing the best methods and techniques can make the process much easier, read the instructions on any products you use and ensure they are suitable for flower dyeing.
For example, fabric dyes work well for dyeing silk flowers but are unsuitable for fresh flowers and could damage delicate flower petals.
If uncertain, check by performing a test with a few flowers before committing to full-scale dyeing. This will help ensure that your project has successful results and won't harm your flowers in any way!
Safety Info
I recommend wearing gloves for protection when working with floral dyes, as they can stain clothing, skin, and work surfaces.
Also, when using spray flower dyes, it's important to work in a well-ventilated area.
Even though the ingredients used in commercial floral dyes are not toxic, the propellants in the cans may contain chemicals that can be an irritant when inhaled.
Clean Up And Storage
If you're looking for an amazing way to dye your flowers, Absorbit and Dipit dyes are great options.
But once you're done, don't pour the leftover dye down the drain. The dye may be non-toxic, but it still has a strong color that could cause problems further down the water treatment system.
Several of our local wholesalers no longer dye flowers in-house due to a warning they received from the Wisconsin DNR.
What to do instead? We advise absorbing the remaining dye into materials like sawdust, wood chips, or newspaper (what we use) and simply tossing it in the regular trash. This is the best way to dispose of dyes without risking negative environmental impacts.
Frequently Asked Questions About Dyeing Flowers
How Long Does It Take For Flowers To Dry After Being Dyed?
The amount of time it takes for a flower to dry will vary depending on the method used.
Generally speaking, though, you can expect flowers that have been dip-dyed or spray-dyed to take anywhere from several minutes to several hours before they are dry enough and ready for use.
To help speed up this process, I recommend that once you have finished dyeing your flowers, you move them into a cool space with low humidity levels to reduce any potential moisture build-up.
Do not refrigerate your flowers until they are thoroughly dry.
Is It Possible To Dye Flowers Without Using A Dye Solution?
Sure, there are other options, but not ones I would recommend for other than personal use.
One option is to use food coloring. This method involves adding a few drops of food coloring directly into warm water and placing the flower stems into the container to absorb the colored water.
Food coloring does not produce the same results as commercial floral dyes, but it might be all you need to get colored flowers in a pinch. It's also easier to find food coloring.
Another option is using natural ingredients such as beet juice or turmeric powder mixed with warm water. These ingredients give a more subtle color than traditional dyes. However, they are a natural product without chemicals, making them an environmentally friendly alternative.
These alternatives allow anyone who wants to color a few flowers without resorting to traditional dyes and wants to include them in their floral arrangements.
Final Thoughts
Professional florists use different methods to dye flowers, from absorption to dip-dyeing and using spray dyes. Whether you're a professional florist or just experimenting with creative flower projects at home, these tips on dyeing and color-shifting flowers will help you get the best results.
Want More Tips And Advice Like This?
If so, enter your email, and I'll let you know whenever I update or post anything new.
We will only use your information to send you our blog updates. You can change your mind anytime by clicking the unsubscribe link at the bottom of any email you receive from us. You can find details about our privacy practices here.
Or you can follow me on social media, where I share additional tips and advice.
Til next time,