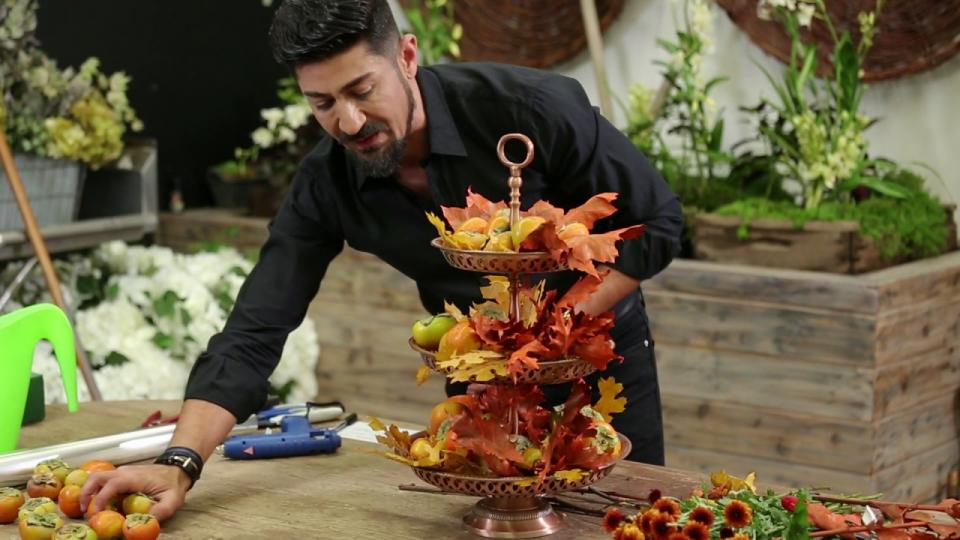 Hey! One quick thing … The content on this site may contain links to products, software, and services. Assume those links are affiliate links which means we may earn a commission if you click and buy. As an Amazon Associate, we earn from qualifying purchases. Thanks in advance – We really appreciate it.
Got 10 Minutes? That's All The Time It Takes To Create This Beautiful Fall Floral Arrangement
If you're looking for a quick and easy fall floral arrangement idea, it doesn't get any simpler than this.
This video tutorial from Eddie Zaratsian Lifestyle and Design will show you how to put together a stunning fall floral arrangement with a little creativity, a few flowers, and less than 10 minutes of your time.
It's an idea I really like, and have personally used at home a lot. I have a feeling that you're going to love it, too! Watch and let me know if you agree.
Awesome, right? I knew you'd like it! The beauty of this type of floral arrangement is that it can be used throughout the year.
For the holidays, for example, you could substitute colorful ornaments and/or pine cones for the persimmons, holiday greens for the preserved leaves, and assorted types of white mums.
What you choose to use is only limited by your imagination. Another advantage to using preserved oak leaves is that they can be stored and used over and over again.
The flowers used, in this case, mums, can be purchased from any number of floral outlets, but your local florist will usually have the best selection.
The preserved foliages from Knud Neilsen are the gold standard preferred by professional florists, but there are other choices as well. You can find Knud Neilsen preserved foliages, and others on Amazon.
You can also find suitable fall foliages at Hobby Lobby, or give your local florist a call.
Silk flowers could also be used in place of fresh. You can find a terrific selection at sites like NearlyNatural, or at craft websites like Hobby Lobby and Michaels.
My name is Greg, the creator of this blog and the owner of Greenfield Flower Shop, and sharing awesome floral home decor ideas is one of the reasons why I created this blog. That's truly my objective here.
With that said, my initial intention was a bit different…
Listen, right off the bat, I've gotta level with you. The truth is, the main reason this site exists is a selfish one.
You see, I really enjoy watching video tutorials (like the fall floral arrangement presentation you just enjoyed), and a cool site on which I could share my favorite videos with others is really what I was after.
With that said, I see a lot of opportunity in creating a site like this. Why lie?
Hopefully, you won't hold it against me if I'm able to generate a little side income from sponsorships and/or product recommendations.
The point is, this site does provide me with a small income. But at the same time… Sales pitches suck, they're not my style, and making money is not my key motivator for running this blog.
If something that is being offered on my site appeals to you, that's cool! But if not, no worries. Your readership is what I'm really after.
I just want share some of the cool floral design tutorials I've run across with you!
And that's the purpose that FlowersFloralFlorist serves. It's basically just a place for flower lovers to come together and watch some of my favorite floral-related videos and tutorials. If that sounds like something you can appreciate, then I'd love to see you again.
Let's Keep In Touch!
I'll be sharing more videos covering things like flowers, plants, and weddings… and the list goes on.
Please subscribe below if you'd like to be updated about new videos as they become available. The emails you receive from me will not be promotional in nature. They'll merely be notifications of new floral design tutorials that are posted.
If you'd like to be a VIP, then, by all means, join for free right here…
Your information will only be used to send you our blog updates. You can change your mind at any time by clicking the unsubscribe link at the bottom of any email that you receive from us. You can find details about our privacy practices here.
Whether you decide to subscribe or not, I'd still be very grateful if you'd follow me on social media and do me a favor and please share this post via one of the social share buttons below.
Til next time,
I'm the owner of Greenfield Flower Shop in Milwaukee, with more than 40 years of experience in the floral, wedding, and event business.