Tips For Choosing The Right Florist For Your Wedding
By the time that most couples start looking for their wedding flowers, they have already made a lot of important and expensive decisions.
Flowers are often one of the last items that couples consider for their wedding. Yet, flowers play such an important role throughout the wedding, it's important to start thinking about them early in the planning process.
Not only is it important, but in the long run, it can save you time and money.
How soon should I book a florist?
In our shop, we find that six months before the wedding date is about the average time most brides contact us about our availability.
If you wait too long to start looking for a wedding florist, some of the ones you're considering may already be booked.
How do I get started?
There are a couple of things you should do before you begin to look for a wedding florist.
Know what your budget for flowers is
Since some of your major commitments, like the ceremony and reception venues, will have been booked before you start looking for a florist, you should first revisit your wedding flower budget.
It may have been affected by unexpected costs in other areas, which is pretty typical.
Once you know what your budgeted amount for wedding flowers is, it's time to…
Get your ideas organized
Before the web, brides used folders, loose-leaf binders, and storyboards to help keep everything organized. Today, Pinterest has replaced all of those.
It has become a "one-stop-shop" for all things wedding-related, especially bridal bouquets, bridesmaid bouquets, and other types of wedding floral decor. It's filled with more awesome wedding flower ideas than you'll ever need.
You can find out how to set up an inspiration board on Pinterest for your wedding in this article.
Once you have gathered the basic information you need together, it's time to begin looking for a florist who can bring your vision and budget together for your special day.
Begin by researching prospective wedding florists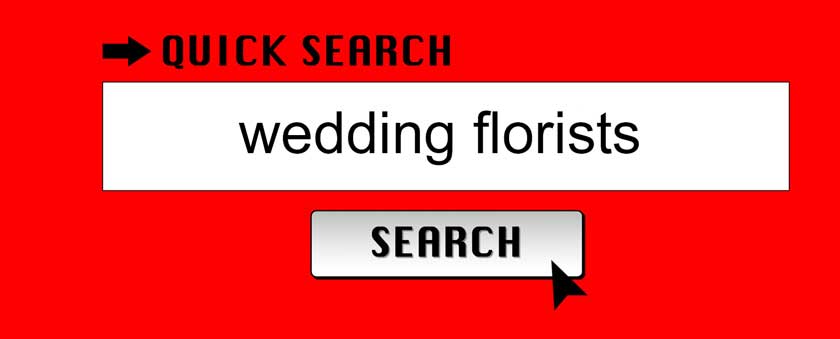 Start by checking their reputation.
Many professional florists and independent floral designers have built strong reputations over their many years in business.
Reputation is important, but you should understand that reputation can be enhanced through advertising. Here are a couple of other things you can do.
Check online reviews.
Check with other vendors you are using. Ask for their recommendations. Ask other married couples you know for their recommendations. You might find some surprises. A good word-of-mouth recommendation is worth checking out.
Performing your own due diligence will pay off. Remember, reputation is important, but you're paying for results.
Check that they have the level of service, capabilities, and resources you need.
Your wedding day is the most important day of your life, and likely, one of the costliest as well.
Because flowers can be utilized in every facet of a wedding, one of the questions you need to ask a prospective floral designer is if they have the capability and resources to handle the size and scale of your wedding.
For example, your wedding may involve some on-site set-up of the flower arrangements. The level may vary, but the florist you choose needs to be properly staffed and equipped to handle it.
If you are already working with a wedding planner, ask them if they can recommend florists that have the type of experience that's required for your wedding.
Even more intimate weddings may need special servicing, especially when the ceremony and reception share the same venue.
Knowing that your florist has the experience and is capable of providing the necessary items and services will make your choice much simpler.
Just make sure these questions are asked and answered before you sign a contract.
Choose a florist who is a good fit for you.
It's essential to choose a wedding florist that you are comfortable working with. Whether you choose a full-service florist, a dedicated wedding and event florist, or an independent designer doesn't really matter.
Most will be happy to share ideas and provide solutions for you, often resulting in bottom-line savings.
Finding a florist who's a good fit is not something you can really measure by objective standards. But after you meet with several florists, you'll know the one you click with the best.
Check their minimums
Most florist wedding and event contracts today include an "expected minimum price" that is the basis for reserving the date. Not all florists have it in their contracts, but if they do, be sure you are prepared to meet that number before signing a contract.
It's a good idea to ask about getting a sample contract you can look over any terms and conditions that may apply to your wedding. It's likely that some of them are negotiable.
How do I know I'm getting the best value for my money when choosing a florist?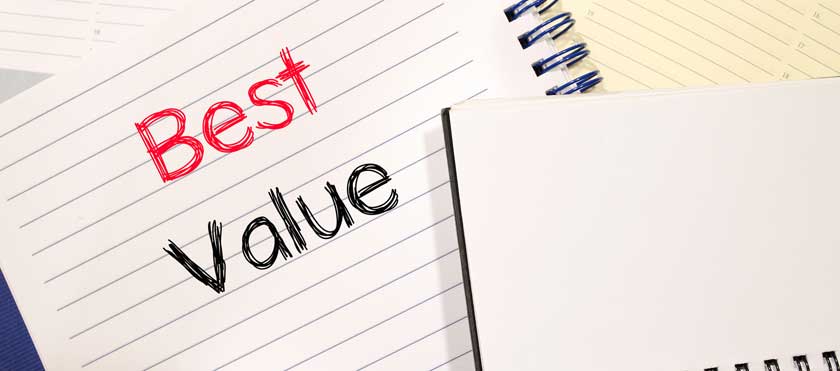 Too often, price weighs too heavily into the decision. A lower price does not always equal a better value.
You will get what you pay for.
Wedding flower prices are based on a number of factors including the number of floral arrangements needed, the actual flower content, delivery, set-up, servicing.
Floral arrangements for weddings are more expensive than everyday floral design work because the design work is more labor-intensive, especially the flowers that the wedding party carries or wears.
Also, expect to pay more when choosing a florist with a high level of skill and experience, as the demand for their services is always strong.
Because every wedding and each florist is unique, it's tough to make an "apples to apples" pricing comparison when you are deciding between different vendors.
Creating the bouquets and floral arrangements for your dream wedding is merely one facet that a professional florist provides. The best reason, in my opinion, to choose an experienced floral pro to provide your wedding flowers goes beyond their ability to create beautiful floral arrangements.
The real value is in the skill and expertise they bring to the table. Blending their experience and ability, they can coordinate all aspects of wedding floral design. And, they'll tie it all together in a way that will make your wedding day both beautiful and memorable.
Don't make the mistake of waiting too long to get the florist you choose involved in the planning process. You're likely to waste a lot of time and probably wind up spending more.
Relying on the advice of family and friends is fine, but seek the advice of professionals as well…and do it early on.
Keep an open mind
When it comes to wedding flowers, working with a color palette, rather than fixating on a specific type of flower, will save you money and possibly disappointment.
If you have your heart set on using a specific flower, like ranunculus or garden roses, for example, market or weather conditions can force up the price, or worse yet, make that flower unavailable.
Allowing your florist to use a variety of flowers within your chosen color palette will allow you to stay within your wedding budget, and avoid you having to make a lot of unplanned, last-minute changes.
One method often cited as a way to save money is to select flowers that are "in season". Good advice? Yes…but usually given by someone not involved directly in today's flower business.
Advances in both the speed and reliability of transportation and communications make today's flower market worldwide.
Many types of flowers once considered "seasonal", can now be found year-round, often at surprisingly affordable prices. Thanks to the greater use of technology in the floral industry today, even the local florist down the street has direct access to these worldwide marketplaces.
The bottom line when choosing a florist for your wedding is combining the right level of expertise and allowing them the flexibility to use it. That's how you can be sure you'll get the best value for your money.
Those are some of the tips, from my experience, that will help facilitate the process of choosing the perfect wedding florist to bring your vision to life, and keep it within your floral budget.
Want more tips and advice like this?
If so, sign up below and we'll notify you when more wedding flower tips and advice like this are posted.
Your information will only be used to send you our blog updates. You can change your mind at any time by clicking the unsubscribe link at the bottom of any email that you receive from us. You can find details about our privacy practices here.
If subscribing's not your thing, you can still follow us on Facebook, Twitter, or Pinterest. If you found this post useful, please share it via one of the social media buttons below.
Until next time,