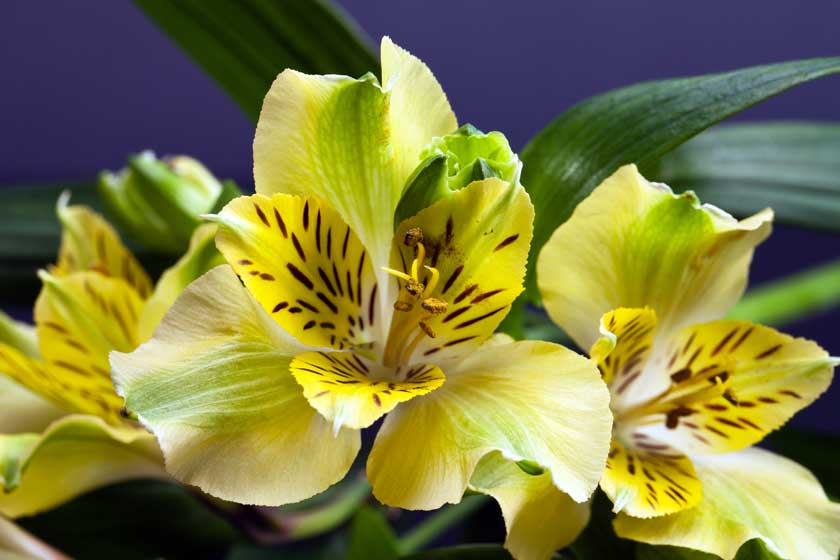 Alstroemeria Care – 7 Steps to Follow for Longer Vase Life
Hey! One quick thing … The content on this site may contain links to products, software, and services. Assume those links are affiliate links which means we may earn a commission if you click and buy. As an Amazon Associate, we earn from qualifying purchases. Thanks in advance – We really appreciate it.
Alstroemeria, aka "Peruvian Lily," is one of the best-selling flowers in our shop. Their longevity, durability, and colorful varieties have made them a favorite among our customers.
Alstroemeria flower arrangements like this one are some of our shop's best-sellers.
This quick video walks you through the seven steps it takes for simple alstroemeria care. It answers many of the commonly asked questions about how to handle fresh-cut alstroemeria flowers upon arrival.
If you are an alstroemeria fan, this is a video we think you really need to check out. Watch and see!
So, did you get a few helpful tips from the video? I hope so! Caring for cut alstroemeria will help you to get a lot of enjoyment from them.
To quickly recap, here are seven steps on how to care for alstroemeria. Following these steps will help increase alstroemeria vase life. You'll also get longer-lasting alstroemeria flower arrangements to enjoy.
Remove any leaves that may be underwater.
While holding the stems underwater in a sink or under running water, cut about one inch off each stem with a sharp knife or shears. DO NOT let the newly cut end dry off before transferring it into another container.
If buds appear to be very tight, submerging them in warm water will promote the opening of the bloom.
Water to which a floral preservative solution has been added should be used to arrange fresh-cut alstroemeria flowers. Using it as recommended will provide additional days of vase life. Try to avoid using water from a water softener.
Immediately after the stems are cut, place your alstroemeria stems in a clean, deep vase of warm preservative solution (about 100 degrees F). Allow several hours to condition them before arranging.
Temperature is a key factor in the lifespan of all flowers. Display your fresh cut alstroemeria arrangements in a cool area out of direct sunlight and drafts.
Alstroemeria are thirsty flowers. It is important to check to see that the vase is full and add preservative solution as needed. If arranged in floral foam, be sure it is completely saturated, and the container is full daily.
That's all there is to it, except to enjoy your flowers!
Just one other quick thing. If you plan on using a lot of alstroemeria for a wedding or event, the video references a couple of products, Floralife Quick Dip and Floralife Crystal Clear Flower Food, which are both excellent commercial grade products we use in the shop and highly recommend for treating all flowers prior to use.
My name is Greg, the voice behind this site, and a retail florist for more than 40 years. I've put together this site to share some of my favorite tutorials, tips, and tricks I've curated for my readers.
Naturally, a "but" is coming…
The work of many of my talented colleagues in the flower business is really to thank for this site. They've created some informative flower care videos. I just wanted a place where I could reference and share all of my favorites from.
But I'm also a bit of an opportunist. Why lie?
Hopefully, you won't hold it against me if I can generate a little side income from sponsorships and/or product recommendations.
I just wanted to disclose the fact that, yes, I do make money from this site. But… any possible monetary benefit is incidental, and I'm not here to sell you anything.
If something being offered on my site appeals to you, that would be a bonus! If you're not interested, there are absolutely no hard feelings. Your readership is what I'm really after.
Sharing helpful flower care and handling tips and tricks with like-minded flower lovers like you is fun for me!
So I invite you to return here again! I'll keep sharing more helpful videos covering topics like working with flowers and plants, and wedding flowers and planning… and the list goes on and on!
Stay Updated
Want to know whenever something new is added to the site? Simply enter your email address below. I'll notify you whenever I publish a new post or update an existing one.
If you don't wanna miss a thing, sign up here.
Your information will only be used to send you our blog updates. You can change your mind at any time by clicking the unsubscribe link at the bottom of any email that you receive from us. You can find details about our privacy practices here.
If subscribing is not your thing, no worries. It's still possible for you to keep updated by following me on social media.
And on a final note, your input and feedback mean a lot to me. So let's continue the conversation on social media. And, if you liked this post, please share it with your friends. I would genuinely appreciate it.
Til next time,
I'm the owner of Greenfield Flower Shop in Milwaukee, with more than 40 years of experience in the floral, wedding, and event business.