Last Updated on November 3, 2022
Want to help your fresh-cut tulips last longer? Following these seven simple steps will do the trick.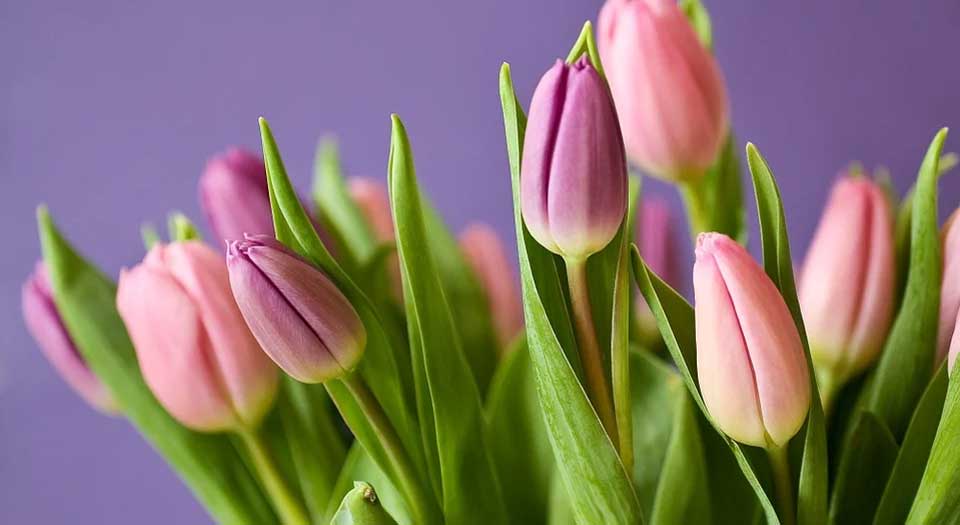 When it comes to finding the best fresh-cut tulips, January through March is peak season. They are widely available, the quality is at its best, and the prices are very affordable.
This quick tulip care video includes a couple of "secrets" you can use to make your flowers last longer. Follow them and enjoy the touch of spring they will provide!
Hope the video was helpful.
Here's How To Enjoy Your Tulips Longer
Again, here are seven care tips that will help to increase the vase life and allow you to enjoy your tulips longer.
Leave the flowers in the wrap and place them in a vase of water under a light source, for about an hour before arranging. This will help to keep the tulips upright for longer. Tulips tend to curve towards the light.
Remove any leaves that may be underwater.
While holding the stems underwater in a sink or under running water, cut about one inch off each stem with a sharp knife or shears. DO NOT let the newly cut end dry off before transferring it back to your arrangement or another container.
Water to which a good floral preservative has been added is the best solution in which to arrange fresh cut tulips. Using it as recommended will provide additional days of vase life. Avoid using water from a water softener.
Immediately after the stems are cut, place your flowers in a clean, deep vase of warm preservative solution (about 100 degrees F). If possible leave them in a cool dark room or refrigerator to 'condition' for 2 or 3 hours after arranging.
Temperature is key to the lifespan of tulips. Display your fresh cut tulip arrangements in a cool area out of direct sunlight and drafts.
Tulips are heavy water-drinking flowers. It is important to check to see that the vase is full and add a preservative solution often. If floral foam is used, check to be sure it is completely saturated and the container is full daily.
My name is Greg Johnson, the person responsible for FlowersFloralFlorist, and I've assembled this site in order to share some cool flower and plant-related videos with my readers. That's it! That's all.
But…
Okay, before anything else, a confession is in order. To be perfectly honest, I really constructed this site for myself. I absolutely love all kinds of flower and plant videos (like the tulip care vid you just enjoyed), and I honestly just wanted a site where I could re-watch all of my favorites under one roof.
I also believe that there is no shortage of opportunities online, which is another motivating factor in my decision to create this site. I just want to be transparent here.
If can start a cool video site that other folks appreciate half as much as I do, and I can possibly even earn a little revenue at the same time, then I really don't feel the least bit bad about it see any reason to feel bad.
As I'm sure you've noticed, I'm not one to pull punches. But hitting you over the head with sales pitches is not why I'm here. If you get the itch to buy anything from any of my sponsors, then I'd be super grateful! But if not, then all is still well. I'm just glad that you're here.
The truth is, I'm very passionate about flowers and plants, and sharing cool stuff with cool people… like you!
It's for this reason that I created this site. It's pretty much a place for cool people to come together and watch videos about flowers. Sound good? Great! It'd be great to have you over again some time.
So come on back! I'll simply keep sharing some of the best videos I've run across about cut flower care and handling, floral design, and wedding flowers… for starters.
Stay Updated
Please subscribe using the link below if you'd like to be updated about new videos as they become available. You'll never be bombarded with promo emails. I'll only send "new video" notifications.
If you want to ensure that you don't miss anything, then, by all means, sign up right here…
We will only use your information to send you our blog updates. You can change your mind anytime by clicking the unsubscribe link at the bottom of any email you receive from us. You can find details about our privacy practices here.
Whether that interests you or not, you can still show your appreciation for good floral-related content by clicking on the Facebook "Like" button or the "Follow Me" on Twitter button (or both), on my right sidebar. Or finally, please share this post via one of the social share buttons below.
Til next time,