Discover the rustic charm of simple country wedding bouquets. From wildflowers to sunflowers, find the perfect bouquet to complement your rustic country wedding.
So, you're getting married and you've decided to embrace the rustic charm of a country wedding? Well, look no further! In this article, we'll show you how to create the perfect country wedding bouquet that will have all your guests swooning.
From popular flower choices to DIY tips and even real-life examples, we've got you covered. Get ready to immerse yourself in the world of simple country wedding bouquets and make your big day truly unforgettable.
Embracing the Rustic Charm: Elements of Country Wedding Bouquets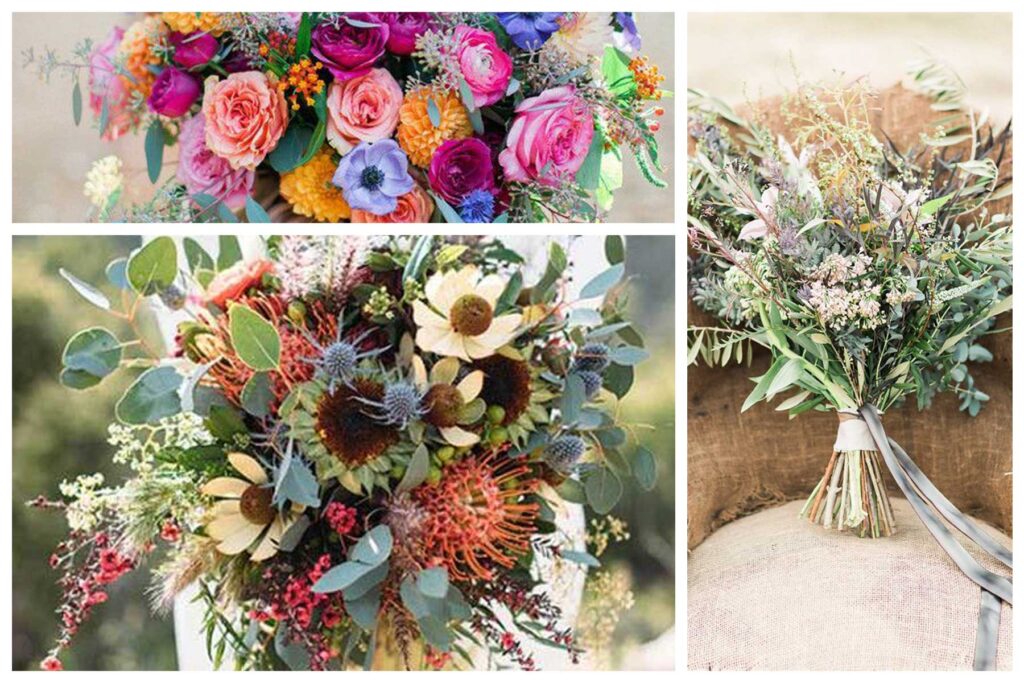 Embracing the rustic charm, country wedding bouquets incorporate natural elements like wildflowers and twine. These simple bouquets exude a sense of down-home charm and simplicity, perfect for rustic or traditional weddings.
The country-style bouquet design often includes a mix of colorful wildflowers, such as daisies, sunflowers, and lavender, creating a whimsical and romantic feel. Twine, ribbon, and lace are used to tie the bouquet together, adding an organic touch and enhancing the rustic aesthetic.
The rustic wedding bouquet design is carefully crafted, with different wildflowers carefully chosen to complement one another. The result is a stunning arrangement that captures the essence of a country wedding.
Whether you're walking down the aisle in a barn or a meadow, a country wedding bouquet is the perfect accessory to complete your rustic wedding vision.
Popular Flower Choices for Country Wedding Bouquets
Roses and sunflowers are popular choices for country wedding bouquets. These flowers perfectly capture the rustic and romantic vibe that couples often seek for their special day.
Here are some other flower options that can complement these main blooms:
Daisies: With their delicate petals and cheerful appearance, daisies add a touch of innocence and simplicity to any bouquet. They are perfect for creating a laid-back, country-inspired look.
Greenery: Incorporating various types of greenery, such as eucalyptus or ferns, can add texture and depth to your bouquet. The lush leaves beautifully complement the vibrant blooms and create a natural, organic feel.
Lace: For a touch of vintage elegance, consider incorporating lace into your bouquet. Whether it's wrapped around the stems or used as an accent, lace adds a romantic and timeless element to your country wedding bouquet.
DIY Tips for Creating Your Own Country Wedding Bouquet
Adding a personal touch to your big day? Consider creating your own country-inspired bouquet with these helpful DIY tips.
When it comes to bridal flowers, seasonal flowers are a fantastic choice for themed weddings like a rustic country wedding. Start by selecting flowers that are in season during your wedding month, such as daisies, sunflowers, or wildflowers.
These flowers will not only add a rustic charm to your bouquet, but they will also be easier to find and more budget-friendly.
To create your DIY bouquet, gather the flowers you have chosen and trim the stems to your desired length. Arrange them in a loose and natural manner, allowing them to flow and intertwine with each other. Add some greenery for added texture and depth.
Finish off your bouquet by tying it together with twine, lace, or ribbon. That's all there is to it!
Wedding bouquets fashioned around one or two specific flowers are the easiest and most cost-effective bouquets for a DIYer to create. Some of our favorites include sunflowers, baby's breath, daisies, lavender, roses, peonies, and hydrangeas.
These bouquets are very popular with DIY brides, but if you do not want to put together bouquets yourself, many florists, including our shop, have created wedding flower packages focused on these flowers.
Still stuck? This DIY wedding bouquet guide will help you through the process.
Incorporating Seasonal Flora in Country Wedding Bouquets
Looking for a way to infuse the beauty of the season into your wedding bouquet? Consider incorporating seasonal flora for a touch of natural charm. Here are four stunning options that will add a touch of whimsy to your country wedding bouquet:
Delicate wildflowers: Capture the essence of the countryside with a mix of dainty wildflowers like daisies, lavender, and baby's breath. These charming blooms will add a rustic and romantic feel to your bouquet.
Vibrant sunflowers: Embrace the bright and joyful spirit of summer with bold and cheerful sunflowers. Their large, yellow blooms will instantly elevate your bouquet and bring a burst of color to your special day.
Fragrant herbs: Infuse your bouquet with the refreshing scents of herbs like rosemary, mint, or lavender. Not only will they add a lovely fragrance, but they will also add texture and depth to your arrangement.
Fall foliage: For an autumn wedding, incorporate the rich hues of fall foliage into your bouquet. From fiery red maple leaves to golden oak leaves, these natural elements will create a warm and cozy atmosphere.
Case Studies: Real-Life Examples of Simple Country Wedding Bouquets
When planning your rustic wedding, don't overlook the charm of incorporating seasonal flowers in your bouquet.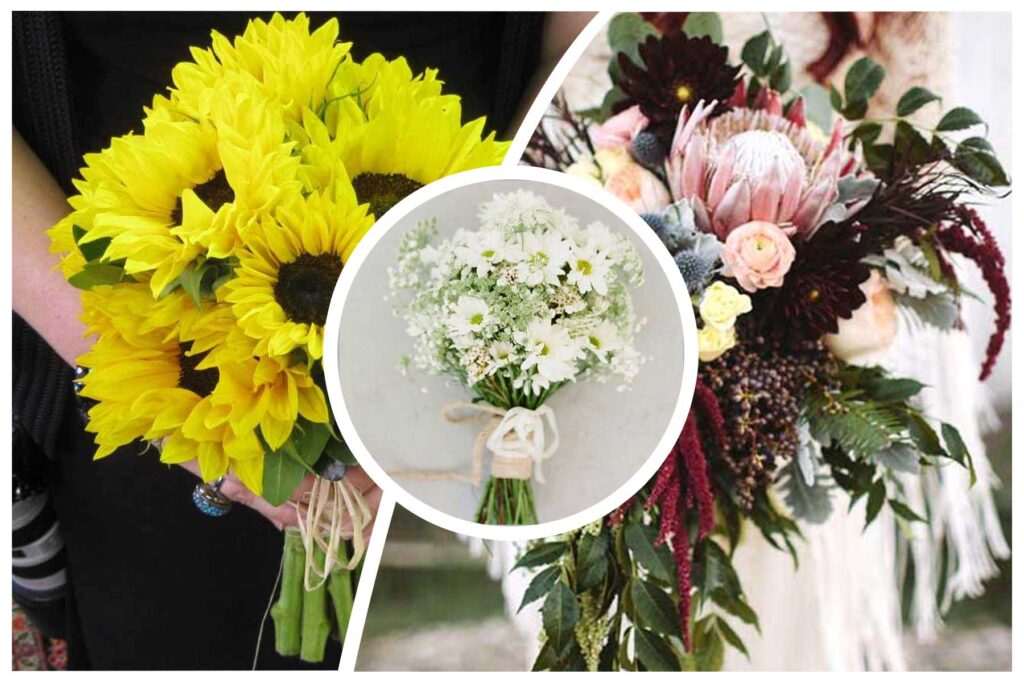 A simple country wedding bouquet can be a beautiful and meaningful addition to your special day. Imagine walking down the aisle, holding a bouquet that perfectly captures the essence of the season.
Picture vibrant sunflowers and daisies in the summer, or rich burgundy dahlias and eucalyptus in the fall. These real-life examples showcase how seasonal flora can transform bridal bouquets into works of art. From delicate wildflowers to lush greenery, each of these rustic bouquets is unique and reflects the couple's individual style.
If you still want a little more inspiration, check out The Knot's take on country wedding bouquets.
Frequently Asked Questions
What Are Some Alternatives to Traditional Flowers for a Country Wedding Bouquet?
If you're looking for alternatives to traditional bridal flowers for your country wedding bouquet, here are some ideas to consider.
Rustic elements like wheat, dried lavender, statice, thistle (eryngium), billy balls (craspedia), or baby's breath (fresh or dried).
These unique choices will add a touch of charm and simplicity to your special day.
Are There Any Specific Color Schemes That Work Best for Country Wedding Bouquets?
When it comes to rustic bouquets, specific color schemes can enhance the rustic charm. Think earthy tones like blush, sage, ivory, and lavender, or go bold with pops of sunflower yellow and deep burgundy.
How Far in Advance Should I Order or Create My Country Wedding Bouquet?
To ensure a stress-free experience when working with a florist on your wedding flowers, you should order your country wedding bouquet at least one month in advance.
If you are DIYing your bouquet, I would suggest that you create a sample bouquet one month in advance as well.
This allows ample time for any adjustments or changes, ensuring your bouquet looks the way you envision for your special day.
What Are Some Unique Ways to Incorporate Personalized Elements Into a Country Wedding Bouquet?
Incorporating personalized elements into your country wedding bouquet can add a unique touch. Consider using family heirlooms, meaningful charms, or other personalized items to make it truly special and reflective of your love story.
Memorial photo charms are an item we're often asked to include in the bride's bouquet.
Where To Find The Flowers You Need
Comparatively speaking, many of the flowers used in country wedding bouquets are a better value when purchased by the box, rather than by the bunch. Roses, hydrangeas, daisies, and baby's breath are available year-round. Prices for these flowers are pretty consistent throughout the year but seasonal and holiday spikes do occur.
Seasonal flowers like peonies and many wildflowers are available in the spring and summer months, while sunflowers are at their peak in late summer and early fall. The quality of these flowers is the best when they are in season, and so is the cost.
I suggest checking suppliers like GlobalRose.com, BloomsByTheBox.com, or Fiftyflowers.com when purchasing flowers online for availability and pricing.
Quick Tip: Online flower vendors all offer "Free Shipping." It seems like a special deal, but it really means they've already covered the cost of getting your order delivered in the overall price you pay. The real deal is buying flowers by the box or case.
When you buy full cases, you're spreading the shipping cost across more bunches, which makes the cost per bunch lower. But when you buy fewer bunches, you're still paying for the shipping of the whole box, but now that cost is divided among fewer bunches, making each bunch more expensive.
Ask your vendor how many bunches or stems can be packed in a case. Some vendors are able to mix and match the flowers you choose, while others can't. You need to check with the vendor.
The price for full cases of flowers will always be your best value.
Ideas and Inspiration for Simple Country Wedding Bouquets: A Quick Recap
You've now discovered the secrets to creating simple country wedding bouquets that radiate rustic charm. By embracing popular flower choices and incorporating seasonal flora and greenery, you can design a bouquet that captures the essence of the countryside.
Armed with DIY tips and examples, you are equipped to embark on your own floral adventure. So go ahead, let your creativity bloom, and create a bouquet that will be the perfect complement to your country wedding.
Want More Tips and Advice Like This?
If so, enter your email address and I'll notify you whenever something new is posted or updated.
We will only use your information to send you our blog updates. You can change your mind anytime by clicking the unsubscribe link at the bottom of any email you receive from us. You can find details about our privacy practices here.
You can also follow me on social media, where I share more useful information you can use.
Til next time,