Last Updated on July 22, 2022
Boho-style wedding bouquets are extremely popular with brides today. Check out some of these fantastic boho wedding bouquets and see why.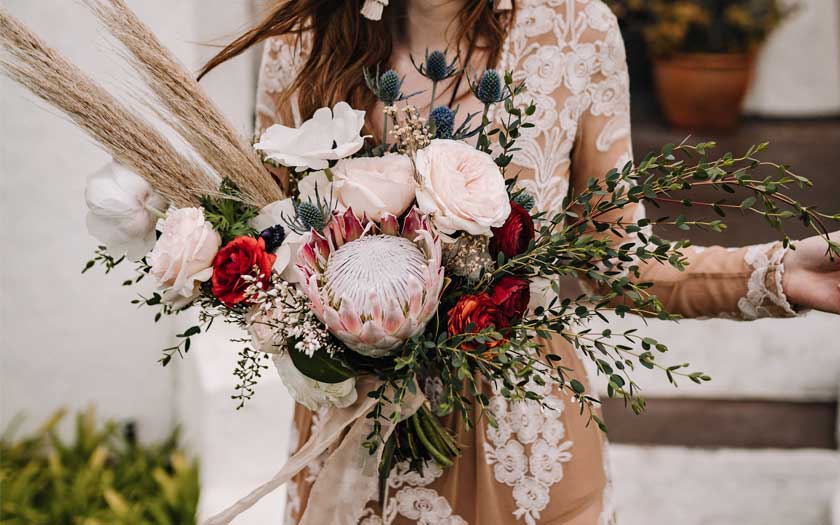 Ideas And Inspiration For Your Boho Wedding Bouquet
A boho wedding is all about embracing natural beauty and a free-spirited aesthetic.
Bouquets and floral arrangements for a boho wedding should be wild and untamed, featuring an eclectic mix of flowers, herbs, and foliage.
Think roses, lilies, lavender, daisies, wildflowers, and greenery, all arranged in a natural, carefree style. Incorporate wood, burlap, and even feathers for added texture and interest.
Over the last few years, we've done more than our share of boho wedding bouquets, especially for some of the more non-traditional weddings we've been a part of.
The Bohemian, or boho-style look, continues to be very popular with brides today, especially the DIYers, and that trend shows no signs of slowing down.
Here are a few boho wedding bouquet pictures we recently ran across that will provide you with ideas and inspiration for your wedding flowers.
You'll enjoy these photos, especially if you want some "boho-style" flair. Browse through them and see if you feel the same.
So There You Have It
I hope these boho wedding bouquet ideas for your wedding have inspired you. These Bohemian-style wedding bouquets are perfect for injecting color and personality into your big day.
Whether you decide to craft your own or work with a floral professional, boho wedding bouquets will ensure you make a statement and bring your vision of the perfect boho wedding to life.
Want More Wedding Bouquet Inspiration Like This?
If so, you might want to read my article about today's top wedding flower trends.
I think you'll find it interesting and come away with new ideas too.
Please sign up if you want me to notify you when I post new articles.
We will only use your information to send you our blog updates. You can change your mind anytime by clicking the unsubscribe link at the bottom of any email you receive from us. You can find details about our privacy practices here.
You can also get more information, tips, and advice by following me on social media. I hope you'll join me there as well.
Til next time,