Last Updated on December 11, 2022
When working with floral glue and adhesives, you have several choices. But which one is the right one? Find out here.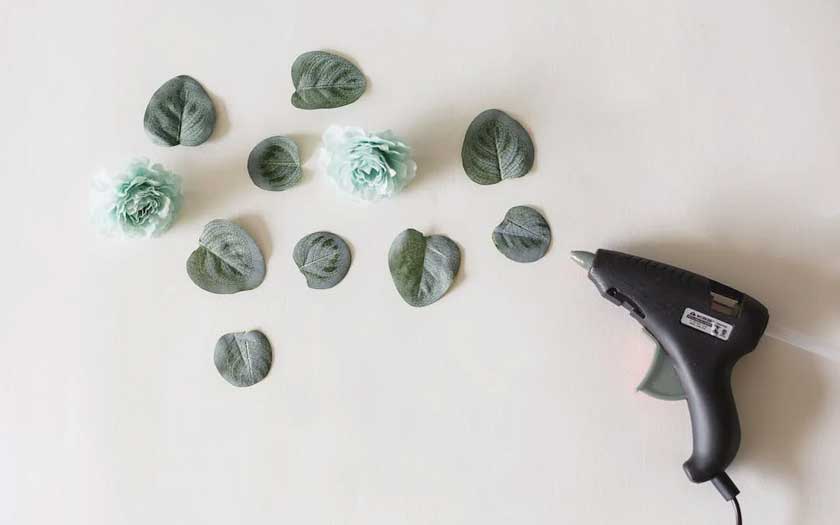 Floral Glue: Which Is The Right One To Use?
Since I sell a lot of flowers for weddings and events to DIYers, I often get asked which floral glue I recommend using.
This video presentation answers that question. In it, AIFD designer Sharon McGukin introduces you to several different types of floral adhesives and the proper application of each.
It even contains a great tip about floral glue, a real timesaver when working with Oasis floral foam.
Whether you are a pro or a newbie DIYer, it's an informative video with great tips. Watch it and see what you think.
I hope the information in the video was helpful. When working with different types of floral media, selecting the correct type of glue to use is essential.
Why Using The Right Floral Glue Matters
Here's a lesson I learned the hard way about using the wrong type of floral glue.
While prepping centerpieces for a wedding reception, we glued plastic floral foam anchor pins onto a plastic dish using a hot-melt glue gun, thinking it would save time. We then greened the containers and stored them in our walk-in cooler overnight.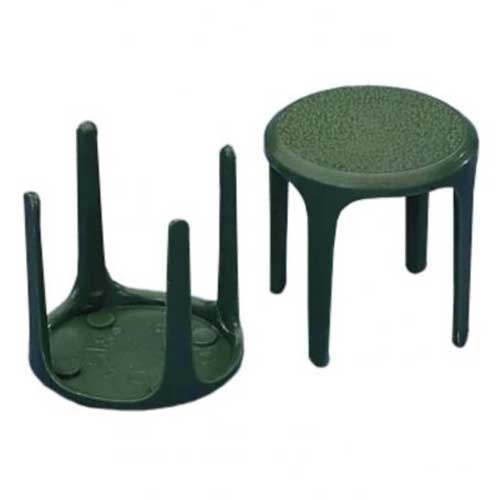 The colder temperature in the cooler caused what is known as "cold-cracking," which caused the bond to fail. The floral foam separated from the container, so we had to redo the work.
Fortunately, we discovered the issue early enough, so we had time to redo the work. It could have been pretty stressful if we hadn't.
That's why choosing the proper floral glue for the job is important.
Here Are the Floral Glues We Use In the Shop
Pan Melt Glue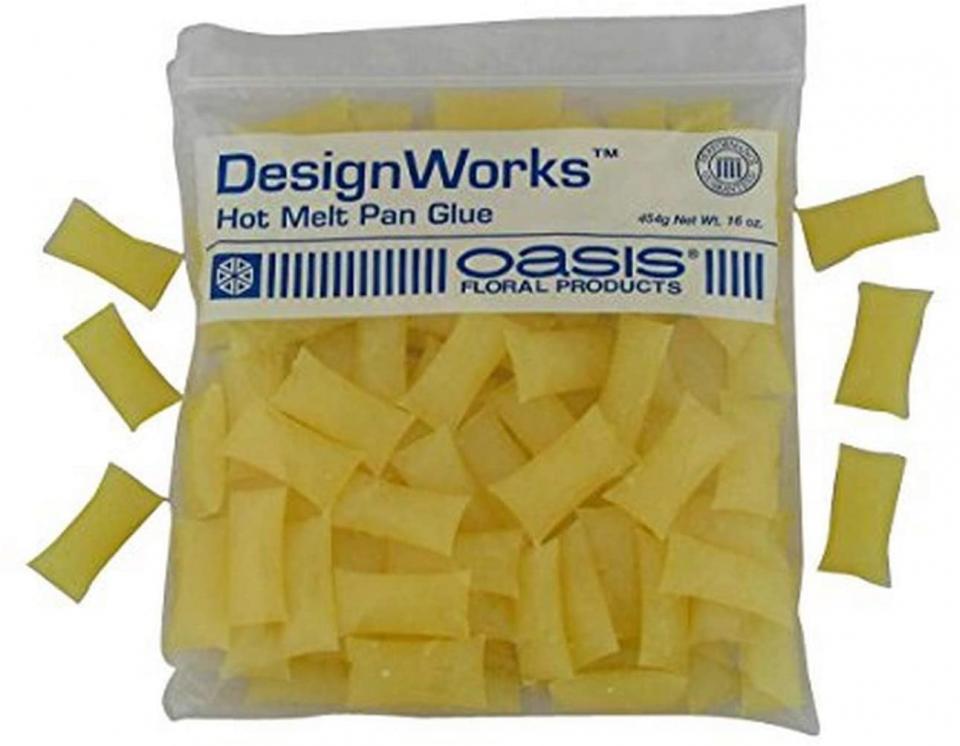 Pan melt glue is the best glue to use for all types of floral foam, including wet and dry foam and styrofoam. It's the glue we use most often in the shop.
We heat and melt the glue using an old electric fry pan rather than a glue pot, so we can more easily apply glue to larger foam blocks.
Using pan glue saves us time and money and holds the floral foam securely into a container without having to tape it.
Once the glue has cured (usually in a few minutes), we soak the entire container in water with a floral preservative.
Oasis Floral Adhesive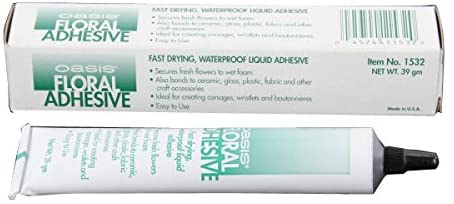 We use the Oasis cold glue in almost all our corsage, boutonniere, and everyday designs. It's safe to use with fresh flowers and greens and handles refrigeration well.
*Bonus Tip*
To avoid wasting corsage glue, use a tube squeezer commonly used for toothpaste. The one pictured here is the one we use at the shop. It works like a charm!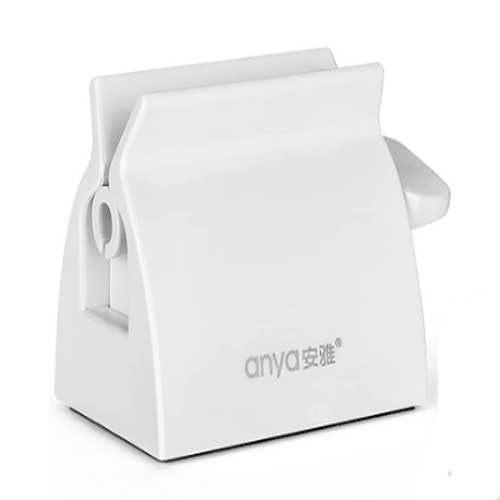 Dual Temp Glue Gun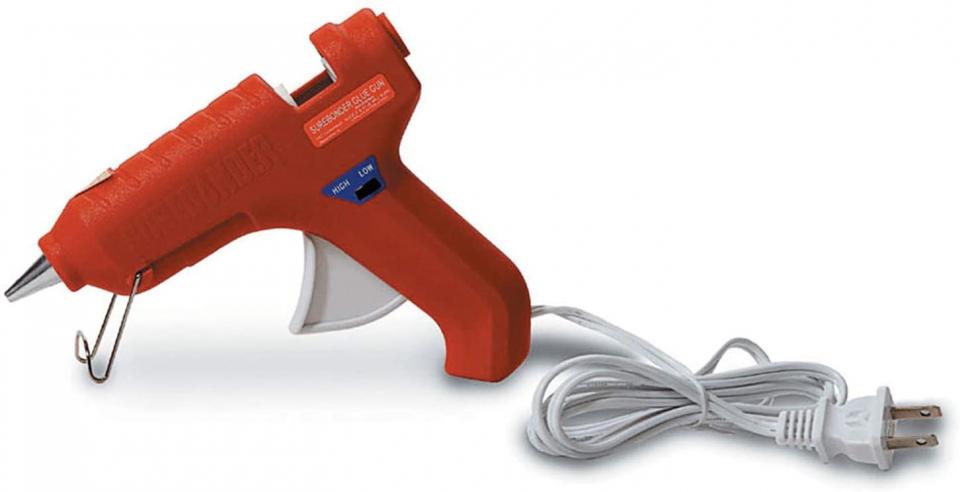 Although we don't rely on the venerable glue gun as much as we used to, we still have a couple of dual-temp glue guns in the shop.
They come in handy when we can't bring the project to the glue.
You can find the complete line of Oasis and Lomey glue, tape, and adhesives at Amazon or most wholesale florist suppliers.
Choosing the right floral glue for your design work is essential. There are many different types available, each with unique applications.
It's important to choose the right one for your particular project. I only use floral glue in the shop formulated specifically and proven to work with flowers and floral foam. They are Oasis, Lomey, and Atlantic brands of floral glue.
In addition, when using any floral adhesive, it's always wise to read the instructions carefully. This way, you won't run into problems later on.
From my experience, it's advice I should have heeded.
Before You Go…
Choosing the right floral glue is only the first step. Want to see an example of how to use floral glue?
If so, you will want to check out my article: How To Make A Wrist Corsage With Cold Glue
Want More Floral Design Tips Like This?
If you do, enter your email address below. I'll let you know when I post or update anything here.
We will only use your information to send you our blog updates. You can change your mind anytime by clicking the unsubscribe link at the bottom of any email you receive from us. You can find details about our privacy practices here.
You can connect with me on one or more of my social media pages, and we can continue the conversation there.
Til next time,