7 Essential Floral Tools Every Floral Designer Needs
Whether you are a budding floral designer or a seasoned pro, this short video by KDIOF shows you some of the basic types of floral tools that professionals use on a daily basis.
Like any profession, you need the right tools to do the job right. It's no different in the floral business.
If you're serious about floral design and want to create professional-looking designs for any occasion, these 7 basic floral tools, at a minimum, should be in your arsenal.
Take a look at the video and see if you have them all or maybe need to add one or two to yours.
I'm really happy you took the time to check out the video! I hope you understand the importance of having the right tools for your floral design projects.
Once again, here's a recap of the basic floral tools you'll need, and the ones that I personally use.
If I had to choose only one tool to work with, a good floral knife would be my pick. It's one tool that I use more than all others when working with flowers.
But there is another tool not mentioned in the video that we use a lot. It's a floral bunch cutter. We use the 7.5 inch Oasis brand cutter, but there are other brands available.
I'd suggest buying a few replacement compression springs to keep on hand. It's always the part that gives out at the most untimely moment.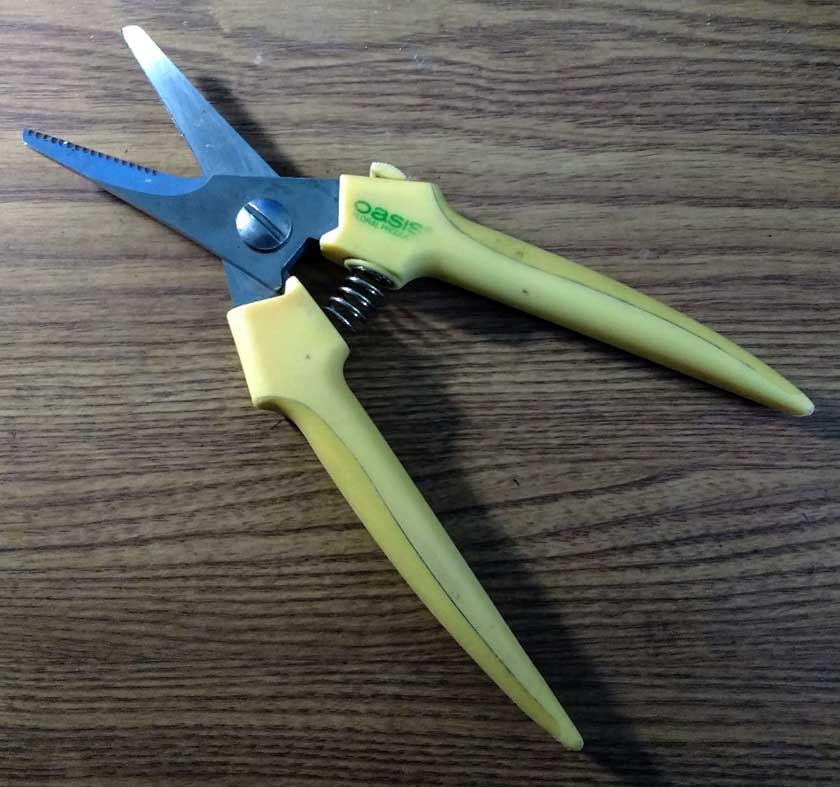 Where To Find the Floral Tools You'll Need
You can find all the tools mentioned in video at various wholesale floral sites, but I'm an Amazon Prime member, so I can get same-day delivery, usually within a couple of hours.
I've also installed the free Honey browser extension, so I know I'm always getting the best deal whenever I shop on Amazon.
Thanks For Stopping By.
I'm Greg Johnson, the owner of FlowersFloralFlorist.com. In a nutshell, this site exists to answer questions about floral design and share that information with my blog visitors. Not much more to it.
That being said, my initial intention was a bit different.
I watch floral design videos on YouTube all the time. I've learned more from many of these videos than I have from many paid seminars that I've attended over the years.
For this reason, I decided to build out a website where I feature video tutorials and information that I have personally vetted (like the essential floral tools videos you just saw). They feature some very talented floral designers and industry experts.
I also see this site as a decent financial opportunity as well. I just thought you might appreciate the truth.
Hopefully, you won't hold it against me if I'm able to generate a little side income from sponsorships and/or product recommendations.
It's a wonderful world we're living in where we can get paid for sharing our passions. I like to take full advantage. But let it be known… hitting you over the head with sales pitches is not why I'm here.
If anything from any of my sponsors interests you, that's great! But if you're just not interested, no worries. Your readership is what I'm really after.
Sharing videos and photos that answer the questions about floral design you're asking is just plain fun for me!
And that's the purpose that FlowersFloralFlorist.com serves. It's just a place for cool people to come together and watch videos about floral design. If that sounds like something you can appreciate, then I'd love to see you again.
So make this site one that you return to! I'll just keep sharing stellar videos (IMO ) about flowers, weddings and DIY tutorials… among others.
Like Learning New Things?
Then simply enter your email address so that I can update you whenever a new video is added to our site. The emails you receive will not be promotional in nature. They'll merely be notifications of new floral design videos, photos, and information that are posted.
Your information will only be used to send you our blog updates. You can change your mind at any time by clicking the unsubscribe link at the bottom of any email that you receive from us. You can find details about our privacy practices here.
---
If subscribing doesn't interest you, you can stay updated by following us on one or more of our social media channels. Or at a minimum, do us a favor and share this post with others.
Finally, we love reading your comments. Let us know what you liked or didn't like about this post. Use the comments section below.
Until nest time,
Greg and the staff at Greenfield Flower Shop