Which finishing spray is best for your floral designs? Learn the correct floral finishing spray to use with this guide.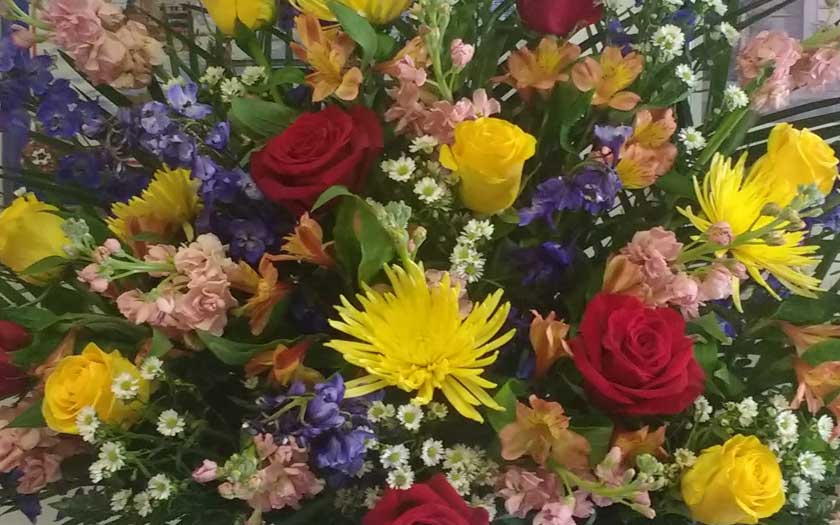 Whether a floral professional or a DIY designer, you know it's not always possible to create floral designs for a wedding or event in one day.
It can often take several days or longer, so it's essential to properly use finishing sprays to help preserve the quality and freshness of your floral design work. But which one should you use?
This article addresses the question by comparing and contrasting different finishing sprays and how and when to use each.
Let's get started.
What Is A Finishing Spray?
When applied, finishing sprays are the last step in the floral design process. But not all finishing sprays are the same. Different applications require different finishing sprays, so using the right product is essential.
For example, Floralifes' Crowning Glory and Finishing Touch are finishing sprays, but their usage is very different.
Crowning Glory is anti-transpirant, while Finishing Touch is a cellular-level spray.
Which finishing spray is suitable for your floral design project?

Click the Image for More Info
Anti-Transpirant Sprays
Anti-transpirant sprays reduce moisture loss when applying them to cut fresh flowers.
The clear polymer coating they provide can be used on all floral arrangements but is best for corsages, boutonnières, flower crowns, headpieces, hand-tied bouquets, and other flower arrangements without a water source.
We use anti-transpirant sprays in the shop on all the flowers we design to carry or wear, especially on flowers like gardenias, stephanotis, roses, and lilies.
We also use it on floral arrangements where wind or temperature conditions could cause issues with premature wilting, like an outdoor wedding or other events.
You'll get the best results when using anti-tranpirant sprays by coating the entire flower, top and bottom, and any foliage.
When I create wearables, I spray the individual flowers I use beforehand, but over-spraying the finished design works too.
The most recognizable brand of anti-transpirant finishing spray is Crowning Glory, sold by Floralife.
Chrysal, a market leader in the flower food industry, sells an anti-transpirant finishing spray called Chrysal Professional Glory, which we prefer and currently use in the shop.
Both are water-based sprays and contain no propellants. They are environmentally friendly, odorless, and stainless.
Both products provide excellent results when used as directed.
Aerosol Finishing Sprays
Design Master®, more well-known for its floral paint and color tools, also sells a finishing spray called Clear Life.
Clear Life is an anti-tranpirant clear aerosol spray applied to the flower's top and bottom. Once it drys, you can transfer the flowers into the cooler.
I know that aerosol sprays of any type have fallen out of favor, but Clear Life is an excellent product we've used for years.
Cellular-Level Sprays
Floralifes' Finishing Touch, on the other hand, is a finishing spray designed to be absorbed by the flowers and foliage.
It helps improve flower opening and development and maintain foliage quality and hydration.
We use cellular-level sprays on arrangements expected to last longer, like home and office floral designs for any occasion.
Floral designs like these are usually arranged in containers with or without floral foam and thus do have a direct water source.
We use it on every arrangement that leaves our shop.

Click the Image for More Info
Before placing your arrangement into a cooler, apply Finishing Touch spray evenly to your completed design and allow it to dry.
Where To Buy Floral Anti-Transpirant Products
You can find links to all the products we use in the shop on our Amazon page.
We buy Professional Glory, Crowning Glory, and Finishing Touch by the gallon, but they are available in smaller sizes.
Still, for our needs, buying larger sizes and refilling the spray bottles we already have is more cost-effective.
Floralife recently introduced the FloraLife Best Bud Kit if you are a flower lover or hobbyist.
It contains 4 eight ounce bottles of flower care products, including Crowning Glory, Finishing Touch, flower food, and Quick Dip hydrating solution.
Plus, you'll get cutting shears too. It's an excellent way to get your feet wet using their products and a great value!

Click the Image for More Info
Here's The Bottom Line: What You Need To Remember About Using Finishing Sprays
Finishing sprays work exceptionally well when used as directed but are not a substitute for your initial cut flower processing and hydration steps.
While finishing sprays may seem similar, they are not the same. Make sure you use the correct type of spray for the best results.
Crowning Glory, Profesional Glory, and Clear Life are used for designs without a water source, like corsages and boutonnieres, or on any arrangements where wilting or water loss could be a factor, such as an outdoor wedding or event.
Finishing Touch is absorbed by the flowers and foliage, encouraging flower opening, foliage quality, and increased hydration. Use it on all arrangements designed for longer durations and created in containers or floral foam.
When using the proper finishing spray on your floral designs, you can relax knowing that the floral arrangements you created a few days before your event will be as fresh as those you just finished.
Like the Flower Care Tips You See Here?
If so, enter your email address, and I'll let you know whenever I post something new.
We will only use your information to send you our blog updates. You can change your mind anytime by clicking the unsubscribe link at the bottom of any email you receive from us. You can find details about our privacy practices here.
You can also get updates about what I'm up to on social media. I love to have you join me there as well.
Til next time,