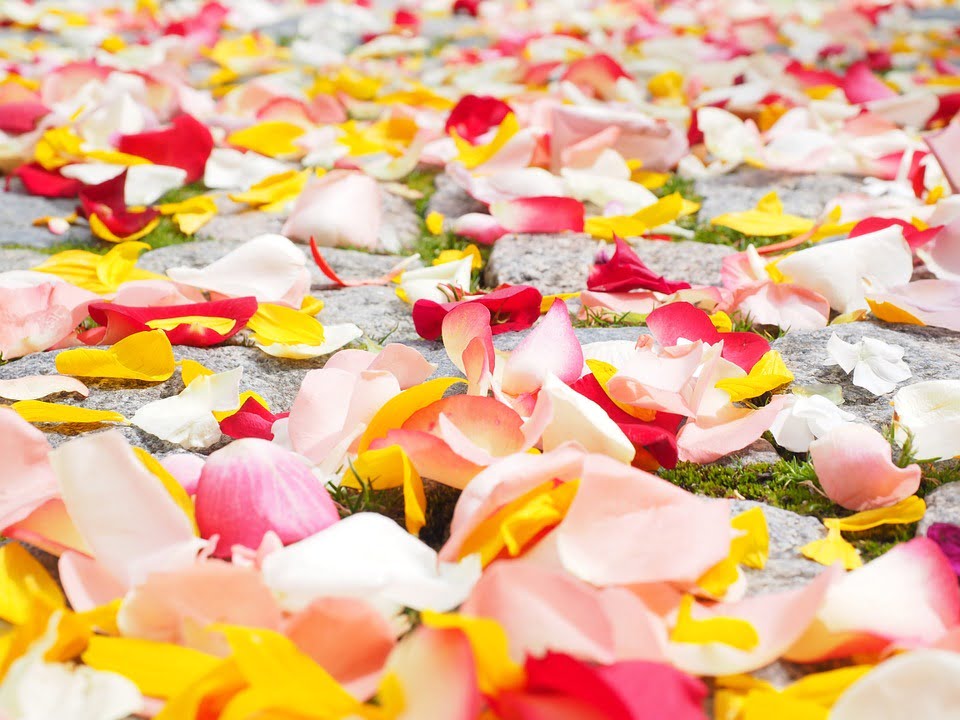 Five Reasons to Use Freeze-Dried Rose Petals Rather Than Fresh Rose Petals at Your Wedding
This past week, I bought some freeze-dried rose petals that we need for an upcoming wedding.
The couple has purchased a custom silk damask aisle runner that they are using and then planning to donate to the church.
They are worried about staining it if they use fresh petals. And they don't like silk petals, because they "look fake".
So they asked if I could check with my suppliers for freeze-dried petals, which I agreed to do. After checking my local suppliers to no avail, I ordered some online.
What Are Freeze-Dried Rose Petals?
Freeze-dried rose petals are actual flower petals picked from a fresh rose and preserved by first freezing the petals (we are talking temperatures around -20°F) and then the petals are dried so all of the moisture evaporates.
What Are the Benefits of Using Freeze-Dried Rose Petals?
There are several advantages to using them rather than fresh rose petals for weddings. Here are 5 reasons why I like using them.
Unlike real rose petals, you can get them in advance and they last for months with no wilting
They can be stored at room temperature, no further freezing necessary
Completely biodegradable, ideal for for outdoor use
Low-cost shipping since they are not perishable
Decorate hours or even days in advance, with no last-minute rushing to finish
Here's a pic of a rose petal heart we did for a client using these red rose petals.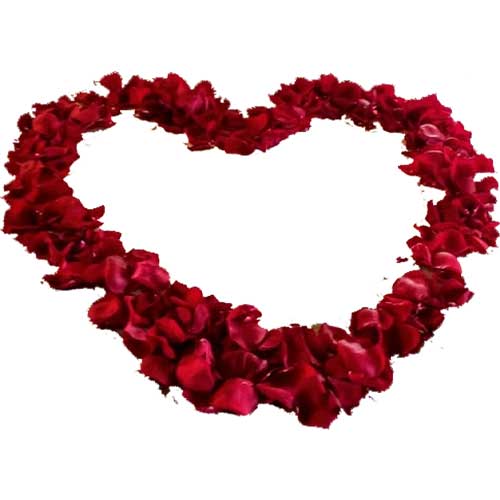 Any Downsides to Using Freeze-Dried Rose Petals?
Not really. Just more of a personal bias. Look, I admit it. I'm a fresh flower guy.
I've worked with freeze-dried flower petals before but was never a huge fan. Most of the petals just didn't have good color, compared to fresh ones. They looked better suited to make potpourri, rather than use at a wedding.
But with better freeze-drying technology available today, I have changed my tune and come around a bit.
When the freeze-dried rose petals I ordered arrived, I was pleasantly surprised. They were very high-quality petals, much nicer than those I'd seen before. They weren't the least expensive petals I found, but given the quality, they are definitely a good value for the money.
And because they are good for the environment and won't stain fine linens, I now have more good reasons to recommend using them from now on.
If you plan on using rose petals in your wedding decor, you might be wondering…
How Many Rose Petals Will I Need?
That depends on how you use them.
For use down an aisle, a path, a tabletop, or bed: One cup per square foot for light coverage, two cups per square foot for moderate coverage, and three cups per square foot for heavy coverage.
The "average" number of petals per cup is about 35-40.
One Last Tip When Using Freeze-Dried Rose Petals
If you're thinking about using freeze-dried petals at your event, here's a quick tip: You can soften the petals by placing the open container into a steamy bathroom for 20-30 minutes.
Here's the link where I found my freeze dried rose petals. Check them out for yourself.
Want More Tips Like This One?
If so, then sign up below. I'll let you know whenever I post new tips and tutorials here. Nothing promotional, just quick notifications.
Your information will only be used to send you our blog updates. You can change your mind at any time by clicking the unsubscribe link at the bottom of any email that you receive from us. You can find details about our privacy practices here.
If you're not interested in signing up, I would appreciate you following me on social media, where we can continue the conversation.
Til next time,
I'm the owner of Greenfield Flower Shop in Milwaukee, with more than 40 years of experience in the floral, wedding, and event business.