Last Updated on April 22, 2022
Want to add the perfect finishing touch to your ceremony aisle? Watch and learn how to design simple pew end flowers like a professional.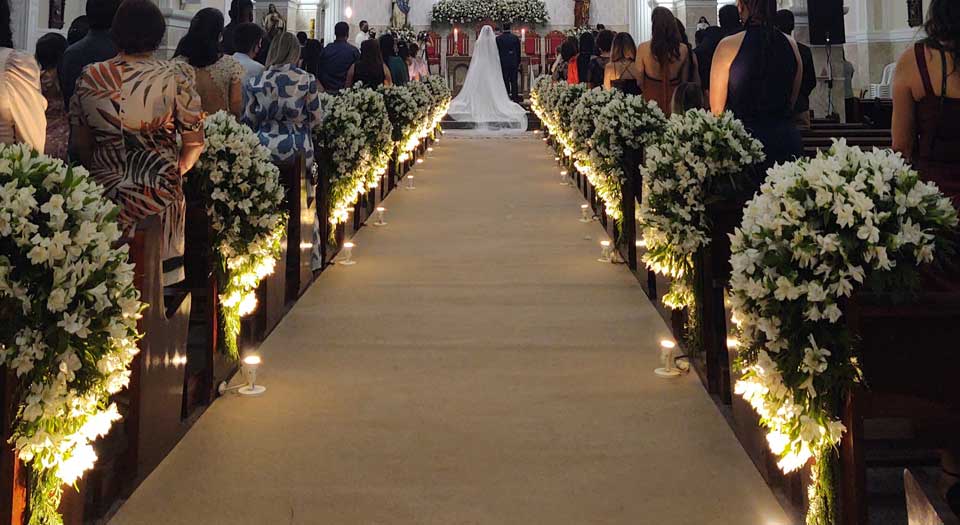 Designing Pew End Flowers – Pro Tips You Can Use
Sometimes simple is really the best way. That's why I like this tutorial about pew end flowers from Flower Joos.
It shows you how to arrange pew end flowers in your hand and finish it off with a bow and tails, providing the perfect finishing touch to your ceremony aisle!
Just imagine how quickly and easily you can design pretty and informal pew end flowers like this one, using this simple technique.
Whether you are a veteran or an inexperienced DIYer, I think you'll truly like this video. Watch it and see if you like it as much as I do.
I hope you enjoyed that… and can't wait to try it yourself. While I opened this post with a pic of an elaborately-decorated aisle, the truth is that the vast majority of pew markers for an aisle are similar to the one shown in the video. They are easy to make and do not require additional rental items or crew labor to set up and dismantle.
Probably the best thing about this type of pew decoration is how easy they are to make, and how affordable they are.
And while we're talking affordability, all of the flowers and greens used in this wedding bouquet, including large-headed roses, lisianthus, ranunculus, baby's breath, salal, and eucalyptus can all be purchased online at BloomsbytheBox, GlobalRose and FlowerExplosion. These three are the ones that I've had experience with.
There are online sources that look really good too, but I'm hesitant to recommend any site I have no personal experience with.
If you only require a small number of high-quality flowers, I do recommend purchasing them from your local florist. Always my first choice!
If you plan on using silk flowers, you can find a terrific selection online at NearlyNatural, or at many craft websites like Michaels and Hobby Lobby, or by ordering them through your local florist.
One quick tip, if I may. If you do plan on using silk flowers, I usually suggest staying with fresh greens if possible, as it will keep your designs looking more lifelike.
You can also find the supplies used and more at Greenfield Flower Shop's page on Amazon.
Thanks For Hanging With Me This Long
I guess I should give a proper introduction. I'm Greg Johnson, the fella responsible for FlowersFloralFlorist, and the owner of Greenfield Flower Shop.
Before we get started, I should let you in on a little secret. The main reason this site exists is a selfish one. You see, I enjoy watching floral design tutorials (like the pew end flowers tutorial you just took a look at), and a site where I could re-watch, share, and comment on my favorite videos is really what I was after.
I also believe that opportunities are limitless online, which is another motivating factor in my decision to create this site. Just thought you might appreciate the truth.
I just wanted to disclose the fact that yes, I do make money from this site. Even so… I'm not here to sell you a thing. If you see a product on this site that you think will help, that's cool! If not, that's fine too. I'm just glad that you're here.
The truth is, I'm very passionate about sharing wedding flower tutorials and other helpful information with interested people… like you!
So please visit ASAP! I will keep sharing more helpful videos with you. Topics such as all things flowers, weddings, and plants are areas I will touch on.
Stay Tuned
Please enter your email address so that I can update you whenever a new post is added to this site. I'll never send you promotional emails, just update notifications.
If you don't wanna miss a thing, then by all means, please sign up right here…
We will only use your information to send you our blog updates. You can change your mind anytime by clicking the unsubscribe link at the bottom of any email you receive from us. You can find details about our privacy practices here.
In any case, you're still invited to grow karma points by sharing this post via one of the social share buttons below.
Finally, your comments are very much appreciated. So I'd like to ask you to follow me on social media, so we can continue the conversation there.
Til nxt time,