Add a pop of color to any outfit with these stunning blooms! Our top flower picks for wrist corsages will have you blooming with style.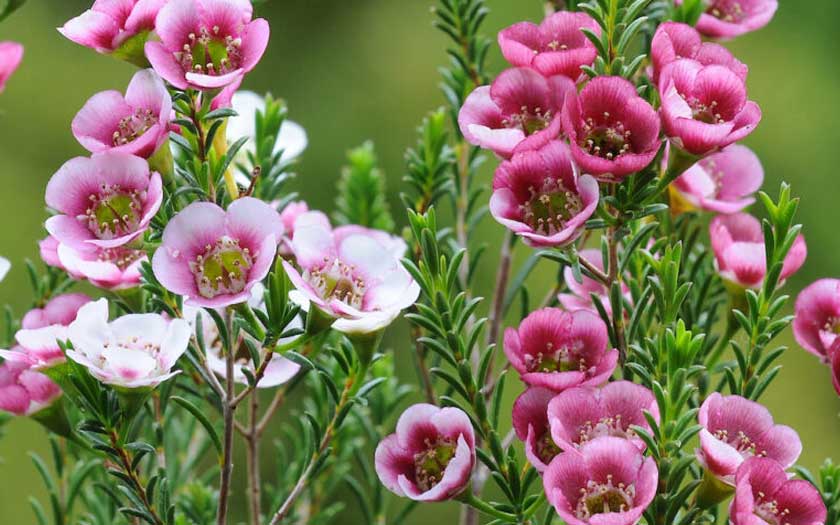 Wrist corsages are a beautiful and traditional floral accessory for special occasions like proms, weddings, homecomings, and other special events.
Because they are worn on the wrist rather than pinned or magnetically attached to a dress, choosing the right flowers for your corsage is important to ensure they look beautiful, are sized properly, and last throughout the duration of the event.
In this article, I'll walk you through some of the flowers we like to use for corsages and provide tips on how to create a stunning corsage that complements your outfit.
Whether you prefer classic or trendy styles, there's a flower that's perfect for your corsage.
What Factors Should You Consider When Choosing Flowers for a Wrist Corsage?
Creating beautiful corsages requires careful consideration of both their use and size. Unlike flowers in a vase, flowers used in a corsage do not have a water source.
Selecting hardy flowers is crucial to ensure your wrist corsage remains fresh throughout the event.
It's also important to consider the size and weight of the flowers your plan to use. Large blooms may appear awkward or uncomfortable to wear on the wrist. if not properly designed, heavier blooms can affect the balance of the corsage, causing it to rotate on the wrist, especially when using a small wristlet.
Although these issues may seem daunting to a novice designer, they're not. Trust me. Cold floral glue has made adding flowers to wrist corsages much easier.
Many flowers that previously needed to be wired and taped can now be easily included by floral designers and DIYers at all skill levels using cold glue.
However, my rule when designing a wrist corsage is to keep it simple. Use fewer, smaller, and lighter-weight flowers to help you avoid problems until you gain more experience.
Wrist Corsage Flowers: A List of Our Favorites
Here are a few of our top flower picks for beautiful and flattering wrist corsages and why we like them.
Spray Roses
Spray roses are easily the number one flower we sell for corsages and boutonnieres. They feature multiple flowers on a single stem, resulting in smaller blooms compared to single-flowered hybrid tea and sweetheart rose varieties.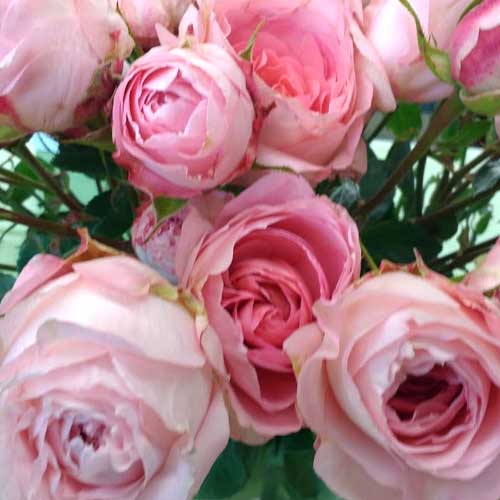 Spray roses come in shades from light pastels to bold, vibrant colors, providing plenty of color options for you to choose from.
Their smaller head size makes them ideal for a corsage and a cost-effective substitute for sweetheart roses. Their fleshy calyx and strong stem can be easily wired or glued into corsage designs.
Most importantly, spray roses are readily available. They are sold at many retail floral outlets, from flower shops to supermarket floral departments.
If you are looking for a particular color, it's best to order in advance, especially during peak times (April through June), when corsage purchases are the highest.
Spray Orchids
Orchids, like Cattleyas, japhets, and cymbidiums, have long been a classic choice for any type of corsage.
While their popularity has waned over the last few decades, spray orchids have become increasingly popular in wrist corsages. It's easy to see why.
Dendrobiums, Mokara, and phalaenopsis varieties bring an understated elegance to wrist corsages but can also add a dramatic pop of color if needed.

Spray orchids are one of the easiest flowers to work with for designers at all skill levels. They are long-lasting, lightweight, and easy to work with, especially when using cold glue.
If you are making a prom corsage or boutonniere for a formal occasion, you'll likely only need a few blooms. If so, you might consider buying a blooming orchid plant and using the flowers from that.
Orchid plants are very easy to find. They are sold everywhere, from big-box retailers and grocery stores to your neighborhood flower shop.
Cut orchids, on the other hand, usually need to be ordered in advance. It's a better option if you are making a larger number of corsages or boutonnieres for a wedding party or require a specific color or flower size.
Ranunculus
Known for their vibrant colors and numerous layers of delicate petals, Ranunculi are popular flowers for wrist corsages today.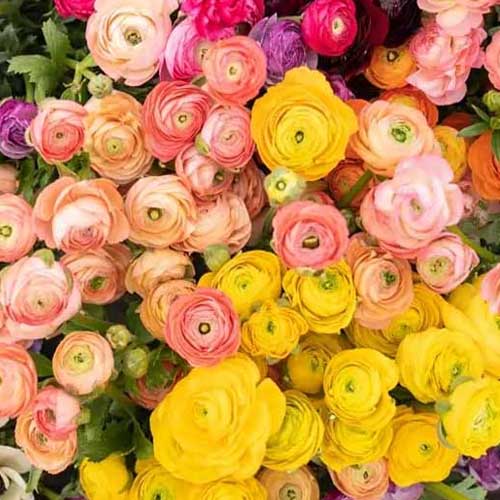 They are available in a wide variety of colors and bloom sizes, both large and small. Because of their lighter weight, ranunculus flowers of all sizes can be used for wrist corsages when using cold glue and the proper gluing surface.
These beautiful blooms are my favorite choice when making a wrist corsage using a single flower.
Waxflower
I love this flowering shrub! It's part of the Myrtle family, and its stems are covered in delicate blossoms in shades of pink, white, or lavender.

Its soft, needle-like leaves add an appealing texture. While waxflower is not a focal flower, it's one of our favorite filler flowers to use in corsages mainly because the colors complement many different color palettes.
Hypericum
Another one of my favorite filler or accent flowers is hypericum. The berries come in red, pink, ivory, and green shades, blending well with many color themes.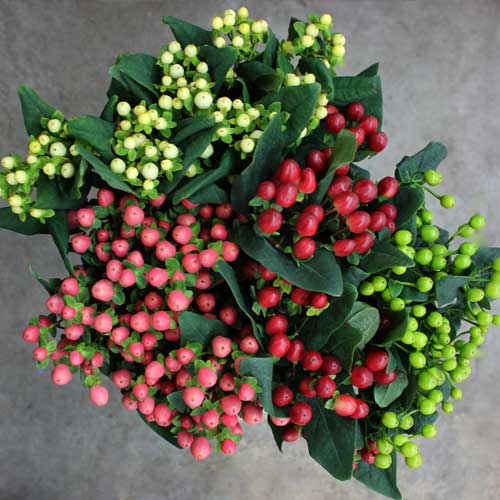 The berries are hearty and long-lasting and easy to add by gluing. They are also easy to find at most retail floral outlets, either by the stem, in consumer bunches, or included in mixed bouquets.
Button and Micro Poms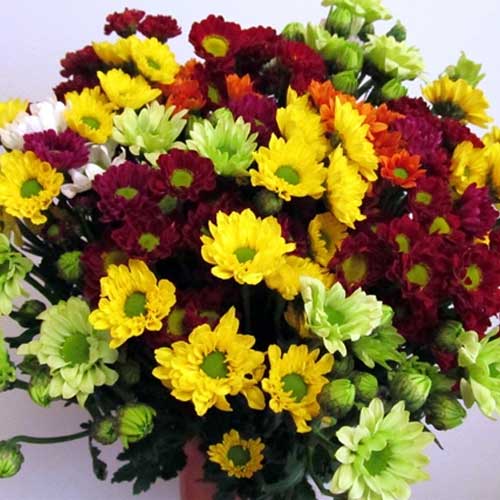 These micro daisy chrysanthemums are perfect for corsages and boutonnieres, with the flowers usually measuring an inch or less.
Button poms are slightly larger and consist of densely packed petals, forming a round or ball-like shape.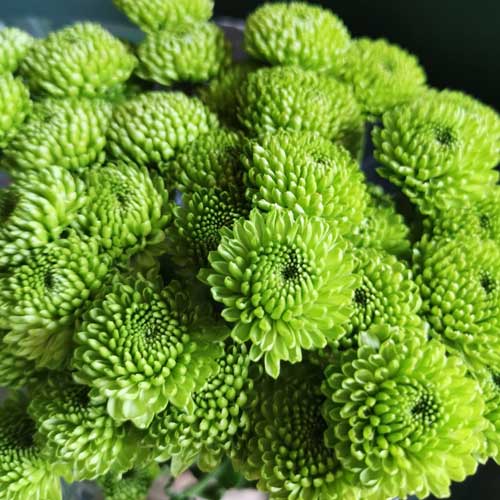 Both of these varieties, the button and the micro, are available in white, yellow, green, red, and purple.
Lisianthus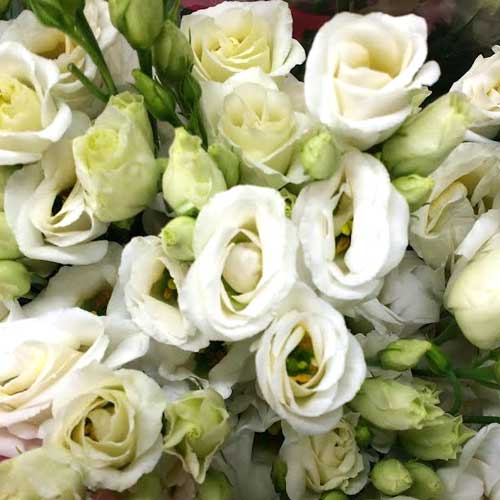 Lisianthus is a delicate, multi-layered flower with petals that resemble ruffled silk. The flowers come in shades of pink, purple, blue, and white.
Despite their fragile appearance, these blooms are known for their durability and excellent vase life, making them a top choice for corsages and boutonnieres.
While some designers don't like lisianthus flower buds, including them adds an interesting touch to both a corsage and a boutonniere, in my opinion.
Why I Like and Use These Flowers for Wrist Corsages
This article only scratches the surface when it comes to flowers, fillers, and foliage that can be used in wrist corsages. There are many other flowers I like that I could have included on this list, but I felt simple is better.
So I chose to focus on reasonably priced, on-trend flowers that are readily available in small quantities, mix and match well, and are easy to work with, no matter your skill level.
These flowers provide a good starting point for designing wrist corsages using cold glue, as well as other wearable floral jewelry, No matter your color palette, season, or style, these flowers will help to create the perfect wrist corsage for your event.
Want More Tips Like This?
If so, enter your email address, and I'll let you know whenever I add or update something here.
We will only use your information to send you our blog updates. You can change your mind anytime by clicking the unsubscribe link at the bottom of any email you receive from us. You can find details about our privacy practices here.
You can also stay updated or contribute your thoughts by following me on social media, where I'm always happy to continue the conversation.
Til next time,