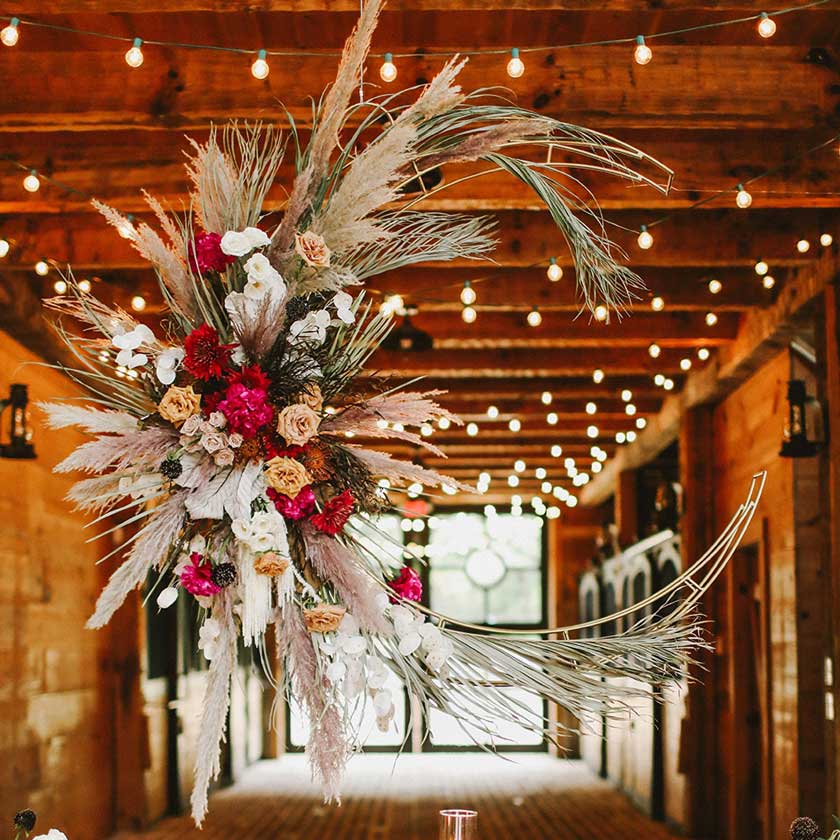 Check Out These Stunning Floral Decor Elements – They Will Really Add The "Wow" Factor To Your Celebration
We've provided flowers for many smaller traditional weddings, some with guest lists of 50 people or less. Today, the new buzzword for this type of wedding is "micro-wedding."
But it's not something that's really a new concept. The pandemic just cast a huge spotlight on it.
When the pandemic hit, couples were forced to quickly change their plans. They had to dramatically downsize their larger weddings due to the health restrictions that were put into place.
As a result, the wedding guest list was pretty much reduced to just family and close friends.
Government mandates regarding gathering size and social distancing also left many unanswered questions about the viability of retaining an existing venue. Traditional indoor spaces were hit hard by mandated safety protocols. Many could only operate at 25% capacity.
If couples really wanted to stick to their original wedding plans, they had no choice but to cancel or postpone their event.
But those restrictions also had a silver lining.
For couples who had not committed to a venue yet, the opportunities to find a unique place to host a micro-wedding abound. In fact, choices for smaller, more intimate wedding venues are almost unlimited.
As event spaces were scaled down and guest counts reduced, your might be wondering…
What About The Wedding Flowers?
Obviously, for a micro-wedding, you will need to rethink your floral options and adjust accordingly. With a smaller venue, that's more important than ever. Everything you do in a small space is magnified.
We always emphasize the use of floral decor that makes an impressive and personal statement.
With today's events, less is more. It's not about how many flowers you have. It's about how impactful those flowers are.
Here are a few floral decor ideas and areas to consider.
1. The bridal bouquet and other personal flowers.
Your bridal bouquet is a personal expression of your style. If you already have decided on the bridal bouquet of your dreams, you don't need to change anything.
That's true for any other bouquets, corsages, and boutonnieres as well.
If you haven't decided on the flowers, you want to carry, this is where to start. Your bridal bouquet and other personal flowers set the tone for your big day.
2. Imaginative focal points can serve as backdrops for the micro-wedding ceremony and reception spaces.
Decorated arches and arbors have been around for as long as I can remember. More recently, flower walls and flower curtains became increasingly popular.
Today, creative architectural backgrounds like floral hoops, moon gates, and hanging floral installations, both free-form and grids, often become the center of attention at micro-weddings.
These elements definitely should be a point of emphasis when planning decor for small spaces like a micro-wedding venue.
While not new ideas, they've taken on new importance by providing unique focal points for smaller, more intimate celebrations. Definitely make sure to consider that in your planning, because little things can make a big difference.
3. Proper lighting that provides soft and intimate focal points.
When combined with flowers, lanterns, candlesticks, and votives provide a romantic touch whenever they are used. They are especially effective in small event spaces, whether surrounding a larger floral arrangement or just a few simple blossoms or greens.
Their soft glow will add an attractive and romantic ambiance.
Use them to highlight specific areas that you would like to focus attention on. Your florist has the expertise and will be able to work through the details with you.
4. Container styles – Mixed and matched with an eye toward versatility.
Containers and prop choices with unusual patterns, shapes, and styles impact the visual appeal in any size venue.
In a larger-scale wedding venue, stands and risers are typically used to elevate floral arrangements on guest tables. In a small-scale celebration, the same 24 – 36 inch risers can be used to raise statement arrangements up off the ground. It definitely gives them more presence, as you can see below.
Many of these suggestions can be easily implemented within your original budget because many of the flowers you originally planned for will no longer be necessary.
As a result, your savings can be used to pay for other floral decor items instead.
Want to see more micro-wedding tips like this?
Sign up, and I'll send them directly to your inbox. No ads, just notifications of new posts. Period.
Your information will only be used to send you our blog updates. You can change your mind at any time by clicking the unsubscribe link at the bottom of any email that you receive from us. You can find details about our privacy practices here.
If that doesn't interest you, that's okay. You can follow my social media channels and get updated there too.
Last but not least, please do me a favor and spread the word by sharing this post with your friends.
Til next time,
I'm the owner of Greenfield Flower Shop in Milwaukee, with more than 40 years of experience in the floral, wedding, and event business.