Using A Bouquet Egg Will Help You To Design Gorgeous Freeform Wedding Bouquets Easily
Hey! One quick thing … The content on this site may contain links to products, software, and services. Assume those links are affiliate links which means we may earn a commission if you click and buy. As an Amazon Associate, we earn from qualifying purchases. Thanks in advance – We really appreciate it.
Here is another awesome instructional wedding flower video from floral and event designer Holly Heider Chapple that shows you how to design wedding bouquets using a bouquet egg.
If you're not familiar with what a bouquet egg is and how to use one, then be sure to check out the step-by-step video tutorial.
It teaches you all about using a bouquet egg, which is a new lightweight design tool that in my experience, is much easier to use than a wire armature.
Even if you have never worked with a bouquet egg before, this quick video will quickly bring you up to speed on how easy it is to design large free-form wedding bouquets like this, which are one of today's trendiest wedding design looks.
I think you'll really love this vid, especially if you love Holly's signature look. Watch it and see if you feel the same way as I do.
I hope you liked the video, and that you are looking forward to arranging flowers using a floral egg as an armature.
Once you get started, you'll see that designing wedding bouquets using an egg is really pretty easy.
If nothing else, understanding this design technique will definitely help to improve your overall design skill and confidence.
Where You Can Buy Bouquet Eggs
You might be wondering where you can find bouquet eggs. When they were first produced, they were only available to the trade through local floral suppliers.
Now they're available to the consumer and DIYers over on Amazon, both the 6″ and 4″ (pictured below) sizes.
While we're on the subject, I should mention you can find the flowers and foliages used in this tutorial for sale online as well.
You can find them at websites such as FiftyFlowers, BloomsbytheBox and GlobalRose at some pretty fair prices.
These three companies are the only ones that I have had any personal experience with.
There are several others that look pretty solid too, like WholeBlossoms and BunchesDirect, but I don't have any experience with them.
If you only need a small number of top-quality flowers, I suggest purchasing them from a local florist. Always my first choice!
If you plan on using silk flowers, you can find an outstanding selection online at sites like NearlyNatural, and at many craft websites such as Michaels and Hobby Lobby, or by ordering them through your local florist.
We used a combination of both fresh and silk flowers in this bouquet we recently did for one of our weddings.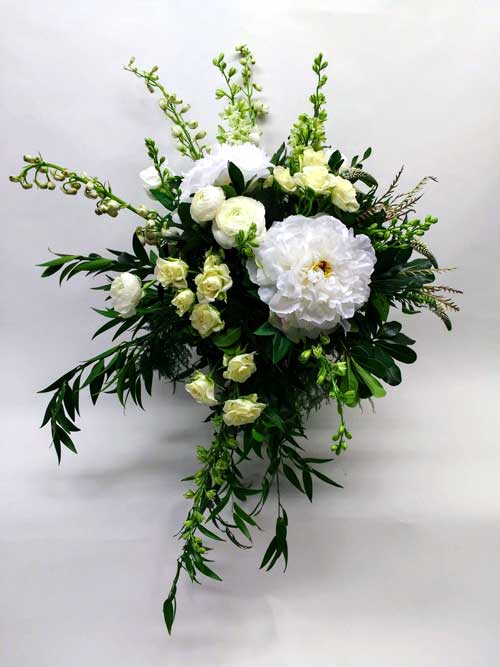 Here's a quick tip I'd like to share. When using silk flowers, I always suggest using fresh greens whenever possible. They will help to keep your bouquets looking more lifelike.
Why You Should Take Me at My Word
My name is Greg Johnson, the guy behind this site. I'm also the owner of Greenfield Flower Shop.
I'm here to share some of my experience with you, with a little video assist from some of the brightest and creative floral designers around. Seriously. that's what this site is all about.
Naturally, a "but" is coming…
Look, before we get into the weeds any farther, I have something important to tell you. The truth is, I really put together this site for myself.
I'm always checking out floral design videos (like the bouquet egg tutorial video you just finished watching), and a cool site on which I could share my favorites and be able to add my 2 cents is really what I was after.
I also believe that opportunity abounds online, which is another motivating factor in my decision to create this site. Not gonna lie.
I enjoy earning a bit of sponsorship revenues on the side, as I share awesome floral design tutorial videos with you. I hope you're cool with that.
I'm a pretty straightforward person if you couldn't tell. But… any possible monetary benefit is incidental, and I'm not here to sell you anything. If something offered on my site appeals to you, great! But if that's not the case, no sweat. You just being here is good enough for me.
Sharing helpful information with good people like you is just plain fun for me!
It's for this reason that I created FlowersFloralFlorist.com. It's simply an "all under one roof" video resource for both myself and others who are interested in actionable floral design tutorials. I hope you can appreciate that. If so, I'd love to see you here again.
So make this site one that you return to! I'll continue sharing high-quality videos about weddings, plants, and flowers… and whatever else I find interesting and think you will too.
Stay updated
Please subscribe below if you'd like to be updated about new videos as they become available. I promise to only ever send you notifications of awesome new information and videos I post here.
If that's something that interests you, then, by all means, join for free here…
Your information will only be used to send you our blog updates. You can change your mind at any time by clicking the unsubscribe link at the bottom of any email that you receive from us. You can find details about our privacy practices here.
In any case, you can hang onto your good karma points by following me on one or more of my social media channels. Your input and feedback mean a lot to me, so let's continue the conversation there.
And finally, if you enjoyed this post, please share it via one of the social share buttons below.
Til next time,
I'm the owner of Greenfield Flower Shop in Milwaukee, with more than 40 years of experience in the floral, wedding, and event business.