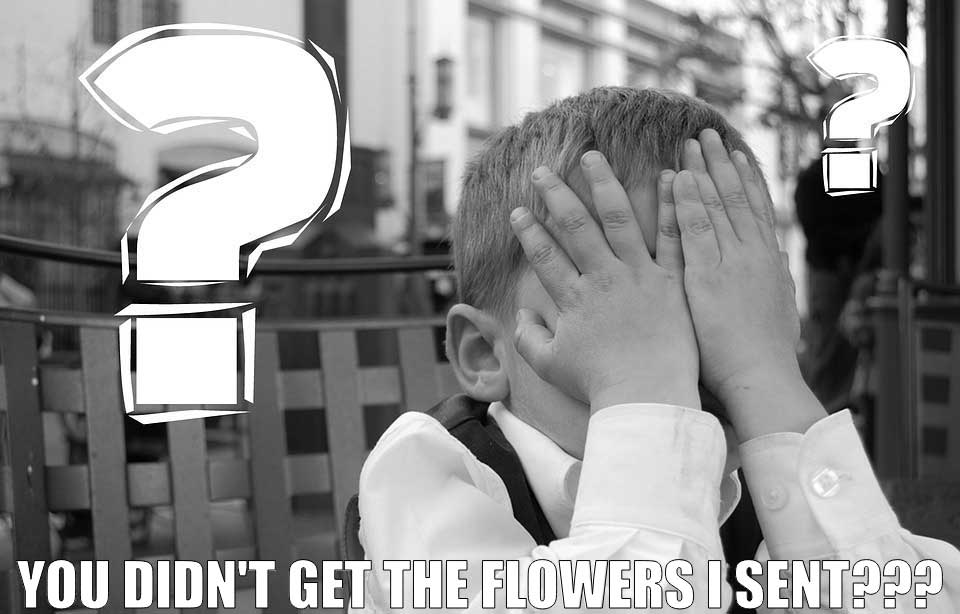 How To Avoid Embarrassing Problems When Sending Flowers
Hey! One quick thing … The content on this site may contain links to products, software, and services. Assume those links are affiliate links which means we may earn a commission if you click and buy. As an Amazon Associate, we earn from qualifying purchases. Thanks in advance – We really appreciate it.
After a significant floral holiday like Valentine's Day or Mother's Day, I usually visit several consumer review sites to see if people had problems sending flowers for that holiday.
It's no surprise to me that the majority of complaints about flowers usually concern delivery.
Either the flowers were delivered late, or worse yet, weren't delivered at all.
Another common complaint is that the flowers delivered were not the ones that were ordered or didn't look like the picture shown online.
Some of the delivery problems I read about are weather-related. Sorry, but there's nothing any of us can do about the weather.
But many of the complaints could have been avoided or minimized when the sender placed the order.
How to Prevent Similar Problems From Happening to You
Although I can't rule out the possibility of something going wrong with your floral delivery, there are several things you can do to minimize the risk of that happening.
Purchase Flowers From a Company You're Already Familiar With
Due to the nature of the web, "cyber florists" are everywhere.
If you're shopping online, make sure the florist you're dealing with has a physical location in the area, preferably in the same zip code where your flowers are to be delivered.
When placing your order, communicate directly with a responsible, full-time employee. Florists employ a lot of temporary help, especially during the holidays. Often part-time or seasonal employees are not well trained in sales. Many of them are just order-takers.
If you have specific requests for flowers, delivery, or pricing, speak with an experienced salesperson. You will save time, money, and headaches should there be a problem with your order.
If you regularly do business with a local florist, place your out-of-town orders with them. They rely on your repeat business and will usually go out of their way to see you are satisfied. If they don't, it's time to find a new florist.
Allow Some Flexibility.
When you purchase flowers from an online or in-store catalog, you should expect your order to be delivered pretty much as pictured. Depending on market conditions, some flower substitution may be necessary, but the arrangement you send should maintain the same look and feel.
If you have a specific floral request that can't be accommodated, any reputable florist will be sure you know that up front. It will save you some disappointment and possible embarrassment.
When we sell any floral order, we usually sell in generic terms. "Seasonal fresh flowers in a vase", or "green plant in a basket" are terms we often use.
Doing so allows us to take advantage of local market conditions rather than using specific flower types or plants that may not be at their best.
That way, we can substitute flowers appropriate for your situation and price range, giving you maximum value.
We apply this same philosophy when sending flowers out of town. In our experience, this has provided the highest level of satisfaction for our customers.
Don't Be Undersold.
The reason you are sending flowers is to express your emotions. You want to make an impact. Keep in mind that the amount you spend in Milwaukee (or your home town) may or may not have the same impact in New York, Los Angeles, Paris, or Tokyo.
Probably the best national online catalog you can check out for price guidelines is Teleflora.com. Or for international delivery, try Fleurop.com.
For Milwaukee area flower delivery, check out our catalog.
Make Sure You Have Complete Delivery and Contact Information.
Nothing is more embarrassing and frustrating than not having your flowers delivered as you requested.
Much of this can be avoided by having complete delivery information, including the recipient's phone number. Many florists no longer accept orders without it.
Nearly everyone has a cell phone now, so it's become an essential piece of information needed for a timely delivery.
If you're worried that the florist will call ahead and spoil the surprise, don't be. Most florists only call a recipient if they cannot complete the delivery.
Since many florists handle deliveries in much the same way, you can check our delivery info page for our guidelines.
I hope these tips help you avoid the most common problems you might encounter when sending flowers and become a better floral consumer.
If you've had a good relationship with a local florist, let us know. We're always on the lookout for quality florists in other locations.
Want To Get More Insider Tips Like This?
If so, sign up below, and I'll let you know whenever I post something new on this site. Don't worry. I never send anything promotional because I value my readers more than that.
Your information will only be used to send you our blog updates. You can change your mind at any time by clicking the unsubscribe link at the bottom of any email that you receive from us. You can find details about our privacy practices here.
If you don't feel like subscribing, that's fine. You can glean the same information by connecting with me on social media, too.
Lastly, if you enjoyed this post, please share it with your friends using the buttons below.
Til next time,
I'm the owner of Greenfield Flower Shop in Milwaukee, with more than 40 years of experience in the floral, wedding, and event business.